News

MAPPA, Lapin Track Make Tama and Friends' Uchi Tama!? TV Anime for Winter 2020

posted on by Rafael Antonio Pineda
---
Sony Creative Products Inc. announced on Friday that it is producing a new anime based on its Uchi Tama!? project titled Uchi Tama!?: Uchi no Tama Shirimasen ka?. The anime will premiere in January 2020 on Fuji TV's Noitamina block.
「うちタマ?! ~うちのタマ知りませんか?~」PVを公開中!!✨

豪華キャストも大発表🐱🐶#斉藤壮馬 #小野賢章 #白井悠介 #花澤香菜 #内田雄馬 #黒沢ともよ #梶裕貴 #梅原裕一郎 #羽多野渉 #前野智昭

放送をお楽しみに♬

公式サイトはこちら▶https://t.co/P0tWOhNRlY#うちタマ pic.twitter.com/a6lew9yzc0

— TVアニメ「うちタマ?! ~うちのタマ知りませんか?~」公式 (@uchitama_anime) June 13, 2019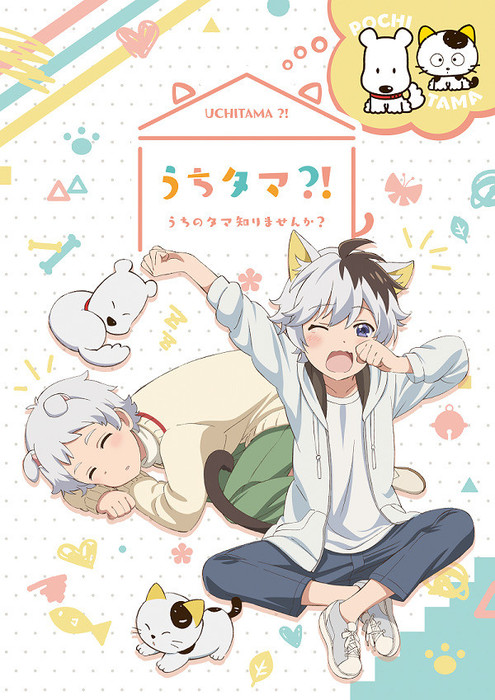 The cast includes:
Sōma Saitō as Tama Okamoto


Kensho Ono as Pochi Yamada


Yusuke Shirai as Tora Kiso


Yūma Uchida as Be Kawahara


Kana Hanazawa as Momo Hanasaki


Tomoyo Kurosawa as Koma Oketani


Yuuki Kaji as Nora


Yuichiro Umehara as Kuro Mikawa


Wataru Hatano as Gon Noda


Tomoaki Maeno as Buru Kuramochi


Kiyoshi Matsuda (Kuma Miko: Girl Meets Bear, Kakegurui××) is directing the anime at MAPPA and Lapin Track (Sarazanmai). Kimiko Ueno (The Royal Tutor, Kuromajyo-san ga Tōru!!) is in charge of series scripts. Mai Otsuka (Shakugan no Shana, Non Non Biyori, This Art Club Has a Problem!) is designing the characters. [email protected] from the music group MYTH&ROID is composing the music.
Sony Creative Products created the Tama and Friends characters in 1983. The anime adaptations began with an original video anime series in 1989, followed by the Sanchome no Tama: Uchi no Tama Shirimasenka? television anime in 1994 and the anime film San-chōme no Tama: Onegai! Momo-chan o Sagashite!! in 1993. A spinoff television anime, Tama & Friends: Sagase! Mahō no Punipuni Stone, aired in 2006. A new Tama and Friends short anime premiered in 2016. 4Kids Entertainment licensed the original television anime in 2001 and aired an English-dubbed version in North America.
Sony Creative Products Inc. revealed the Uchi Tama!? project, which anthropomorphizes the franchise's characters, in 2017.
In commemoration of the franchise's 30th anniversary in 2013, Sony Creative Products released several forms of media, including a novel, a real experience game, a picture book reissue, and stage play adaptation.
Sources: Uchi Tama!? anime's website, Comic Natalie
---