Ponyo, Pokémon and Zelda Delight Younger Readers this Holiday Season in New Books and Manga Releases from Viz Media
Nov 16th 2009

San Francisco, CA, November 16, 2009 – VIZ Media, LLC (VIZ Media), one of the entertainment industry's most innovative and comprehensive publishing, animation and licensing companies, will delight younger fans (as well as their parents) this holiday season with a fun variety of age-appropriate titles based on popular anime and manga (graphic novel) properties.

The releases include a trio of books capturing the unique art and tender story of PONYO, the new animated film from the legendary Hayao Miyazaki. Fans of POKÉMON won't be disappointed with a variety of the latest manga editions along with puzzle books and a new posterzine, and THE LEGEND OF ZELDA fans can also look forward to a brand new manga adventure.

"These are all titles that parents can select with confidence for younger readers," says Gonzalo Ferreyra Vice President, Sales & Marketing, VIZ Media. "From the gorgeously illustrated PONYO FILM COMIC and PICTURE BOOK, to the fun puzzles of LET'S FIND POKÉMON and the magical fantasy of THE LEGEND OF ZELDA, there are plenty of thoughtful selections to delight anyone on your holiday gift lists this year!"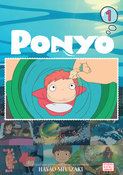 PONYO FILM COMICs, Volumes 1-4 · Rated 'A' For All Ages · MSRP: $9.99 US / $11.50 CAN each
From the Academy Award®-winning director and world-renowned Japanese animation legend Hayao Miyazaki comes PONYO, a story inspired by Hans Christian Andersen's fairy tale "The Little Mermaid." A box-office success when it was released by Walt Disney Studios earlier this year, the film tells the story of a young and overeager goldfish named Ponyo and her quest to become human. The official 4-volume film comic of PONYO re-tells the film's story with vivid full-color frames.
PONYO PICTURE BOOK · Rated 'A' For All Ages · MSRP: $19.99 US / $23.50 CAN
The colorful and easy-to-read PONYO Picture Book is a fabulous hardcover edition that will appeal especially to younger readers. The book uses the vividly colored animation cel art from the feature film combined with simplified text to retell the story of Ponyo and her adventures in the human world.
THE ART OF PONYO • Rated 'A' for All Ages • MSRP: $34.99 U.S. / $39.99 CAN
A comprehensive soft cover edition that features striking watercolor and pastel concept sketches and layout pages from the film, as well as interviews with production principals and the complete screenplay to give an inside look at the entire creative process behind PONYO.
THE LEGEND OF ZELDA, Volume 8 · Rated 'A' For All Ages · MSRP: $7.99 US / $9.99 CAN
Enjoy the newest adventure in the official manga series based on the popular Nintendo video game.
POKÉMON POSTERZINE · Rated 'A' For All Ages · MSRP: $9.99 US / $9.99 CAN
Packed with 11 full color fold-out posters, this large (16" x 22") edition is a must-have for any fan of Pikachu and his friends. A variety of favorite POKÉMON Platinum characters, from Pikachu and Piplup to Chimchar and Turtwig, are all featured.
LET'S FIND POKÉMON! RUBY & SAPPHIRE · Rated 'A' For All Ages · MSRP: $11.99 US / $13.99 CAN
Look for Pikachu hiding among a variety of colorful puzzles and other games. Fun for adults too!
POKÉMON ADVENTURES, Vol. 3 · Rated 'A' For All Ages · MSRP: $7.99 US / $9.99 CAN
This is the latest volume in the exciting POKÉMON manga series.
POKÉMON DIAMOND & PEARL ADVENTURE!, Vol. 5 · Rated 'A' For All Ages · MSRP: $7.99 US / $9.99 CAN
Check out the latest volume in the exciting POKÉMON DIAMOND & PEARL manga series.
For information on VIZ Media titles, please visit www.VIZ.com.
About VIZ Media, LLC
Headquartered in San Francisco, CA, VIZ Media, LLC (VIZ Media), is one of the most comprehensive and innovative companies in the field of manga (graphic novel) publishing, animation and entertainment licensing of Japanese content. Owned by three of Japan's largest creators and licensors of manga and animation, Shueisha Inc., Shogakukan Inc., and Shogakukan-Shueisha Productions, Co., Ltd., VIZ Media is a leader in the publishing and distribution of Japanese manga for English speaking audiences in North America, the United Kingdom, Ireland, and South Africa and is a global ex-Asia licensor of Japanese manga and animation. The company offers an integrated product line including the popular monthly manga anthology SHONEN JUMP magazine, graphic novels, and DVDs, and develops, markets, licenses, and distributes animated entertainment for audiences and consumers of all ages. Contact VIZ Media at 295 Bay Street, San Francisco, CA 94133; Phone (415) 546-7073; Fax (415) 546-7086; and web site at www.VIZ.com.
Gake no Ue no Ponyo (Ponyo on the Cliff by the Sea) © 2008 Nibariki - GNDHDDT All rights reserved. First published in Japan by Tokuma Shoten Co., Ltd.
---