High and Mighty Color "Swamp Man" USA Release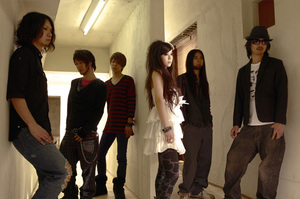 February 9, 2010 – JapanFiles will release High and Mighty Color's latest album "swamp man" on March 15. 2010 in support of the band's upcoming live performance at Sakura-Con 2010 in Seattle, WA.
The USA CD release will include the complete Japanese booklet with lyrics. Pre-orders begin today at the JapanFiles store for fans worldwide.
http://www.japanfiles.com/store
Swamp man will also be available at retailers including Amazon.com, Right Stuf.com, and Hot Topic stores.
ABOUT HIGH AND MIGHTY COLOR
Formed in Okinawa, Japanese rock band High and Mighty Color has contributed theme songs for three hit anime series: "Bleach," "Mobile Suit Gundam Seed Destiny: Special Edition," and "Darker than Black." The band has also contributed film songs for "Death Note: The Last Name (tribute album)" and "Anata wo Wasurenai." In 2009, High and Mighty Color (also known to their Japanese fans as "Haikara") returned to their original label Spice Records and released a new album "swamp man" featuring new vocalist HALCA.
ABOUT JAPANFILES:
Supporting Japanese artists since 2004, JapanFiles specializes in digital sales and media promotion for indie and major Japanese music artists. Music downloads at the JapanFiles Digital Music Store are DRM-free and only 99 cents each.
JapanFiles has sponsored Japanese artist appearances at Sakura-Con, Anime Boston, A-Kon, FanimeCon, Anime Mid-Atlantic, Pacific Media Expo, Anime Vegas, Animex (Mexico), SXSW, Slim's (San Francisco), and Knitting Factory (New York City).
JapanFiles has produced over 20 USA CD releases for Japanese artists, including High and Mighty Color, girugamesh, LM.C, Morning Musume, Hangry & Angry, ketchup mania, Swinging Popsicle, LiN CLOVER, Budo Grape, BESPA KUMAMERO, and three volumes of the "Fresh Cuts from Japan" compilation series.
JapanFiles Digital Music Store: http://www.japanfiles.com
MySpace: http://www.myspace.com/japanfiles
LiveJournal: http://japanfiles.livejournal.com
Twitter: http://www.twitter.com/japanfiles
Facebook: http://www.facebook.com/pages/JapanFiles-Digital-Music-Store/269293716258
JapanFiles is a division of Japanese education website YesJapan.com.
http://www.yesjapan.com
---