×
remind me tomorrow
remind me next week
never remind me
Subscribe to the ANN Newsletter • Wake up every Sunday to a curated list of ANN's most interesting posts of the week.
read more
Critical Mass Video Announces March 5, 2013 DVD Release of Hardcore Hospital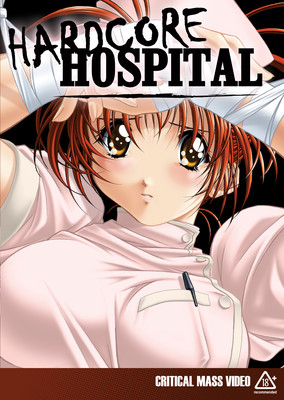 Critical Mass Video
Announces March 5, 2013 DVD Release of Hardcore Hospital
GRIMES, Iowa, Nov. 7, 2012 – Leading adult anime label Critical Mass Video is pleased to announce the DVD release of Hardcore Hospital on March 5, 2013.
Hardcore Hospital is based on the
Shiroki Tenshi-tachi no Rondo
game by
Black Package
(
Chains of Lust
) with production by
Digital Works
(
Sex Ward
,
Private Sessions
).
About Hardcore Hospital
At Date General Hospital, the nurses don't just make you feel better – they make you feel pleasure beyond anything you've ever imagined. Dr. Date, the hospital's director, is personally in charge of this hand-picked team of "special nurses," whom he trains in every seductive and sexual "therapy" technique: Saeko is the vivacious veteran, Minako is the hot and busty new recruit, and Sayaka is the sweet and innocent virgin. Combined with his homemade stamina drugs, these ladies can keep going and going...
But sometimes his nurses are reluctant to delve into the murkier side of the profession. That's when Dr. Date has to take control... and his hardcore techniques will ensure that they're ready and willing to explore every part of a patient's body!
Hardcore Hospital
Format: DVD
Pre-Book: 2/5/2013
Street Date: 3/5/2013
Runtime: 60 minutes
Genre: Erotic Drama
Suggested Rating: 18+
Audio: English (
Dolby Digital
2.0 Stereo), Japanese (Dolby Digital 2.0 Stereo)
Subtitles: English subtitles
Video: Color
Catalog #: CMDVD1329
UPC: 7-42617-1329-2-6
SRP: $14.99
Disc: 1
Case Quantity: 30
Features:
Animated art gallery, original U.S. Hardcore Hospital trailer, and Critical Mass Video trailers.
HARDCORE HOSPITAL (Shiroki Tenshi-tachi no Rondo) © 2003 Black Package Try / Digital Works.
* To view this image, cut and paste the URL into your Web browser.
** Product specifications and content may be subject to change.
ABOUT CRITICAL MASS VIDEO
Critical Mass Video Ltd. is one of the top adult Japanese animation ("anime") labels in the United States, with a catalog including well-known titles such as
Cool Devices
,
Anyone You Can Do... I Can Do Better!
and favorites from
The Vanilla Series
, such as
Love Doll
,
Naughty Nurses
and Sex Ward. For more information, visit
www.criticalmassvideo.com
.
---