From Up on Poppy Hill: English Language World Premiere - In Cinemas Dec 20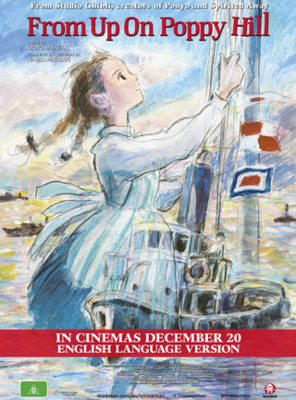 MELBOURNE, Tuesday, 11 December 2012: Madman proudly presents the world premiere of the English language version of Studio Ghibli's From Up On Poppy Hill, in Australian cinemas for a limited time from December 20, 2012.
From the highly celebrated studio that gave us Spirited Away, Ponyo and Arrietty, comes the highly anticipated English language version of From Up On Poppy Hill, a uniquely inspired coming-ofage story from Goro Miyazaki and Hayao Miyazaki.
Set in Yokohama in 1963, this lovingly hand-drawn film centers on Umi (voiced by Sarah Bolger, Once Upon A Time) and Shun (voiced by Anton Yelchin, Star Trek) and the budding romance that develops as they join forces to save their high school's ramshackle clubhouse from demolition.
The English language version also features the voices of Gillian Anderson (The X-Files), Christina Hendricks (Mad Men), Jamie Lee Curtis (True Lies), Beau Bridges (The Fabulous Baker Boys), Ron Howard (American Graffiti), Aubrey Plaza (Parks and Recreation), Bruce Dern (Big Love) and many more.
The top-grossing Japanese film of 2011 and winner of the Japan Academy Prize for Animation, From Up On Poppy Hill captures the innocence of new love as well as the beauty of Yokohama's harbor and lush surroundings.
With its rich colour palette, stunning exteriors, sun-drenched gardens, bustling cityscapes and painterly detail, From Up On Poppy Hill provides a pure, sincere, and nuanced evocation of the past, and marks yet another creative triumph for Studio Ghibli.
From Up On Poppy Hill screens from December 20 at Cinema Nova (VIC), Dendy Newtown (NSW), Dendy Canberra (ACT) and Luna Leederville (WA).
ABOUT STUDIO GHIBLI
Studio Ghibli is often referred to as the 'Disney of the East'. Animated films of the highest quality are Studio Ghibli's hallmark. Their works are renowned the world over for their unique and visionary worlds, beautiful animation, and engaging characters that are beloved by all ages. Their films include Spirited Away (Academy Award-winner for Best Animated Feature Film), Howl's Moving Castle and Arrietty. Hayao Miyazaki, one of the greatest directors and animators in Japanese cinema, has directed multiple award-winning Studio Ghibli feature films, since co-founding the company with his senior colleague, Isao Takahata in 1985.
ABOUT MADMAN ENTERTAINMENT
Madman is a leading independent film and television distribution and rights management company, with offices in Australia and New Zealand. Madman is renowned for its commitment to quality Australian and foreign film, factual content, as well as highly collectable categories such as Japanese anime, genre film, animation and cult television. Madman's capabilities encompass end to end acquisition, marketing, creative, sales and distribution in all mediums and formats, from the silver screen to the digital realm. Madman is also a proud producer of Australian film and television content. Put simply, Madman is mad for entertainment. Madman is owned by Funtastic Limited, one of Australia's largest wholesalers of consumer products into retail outlets and an Australian Stock Exchange (ASX) listed company
---
discuss this in the forum (1 post)
|