Interest

Square Enix Offers iOS Game to Teach English Dialogue

posted on

2011-04-28

14:30 EDT by Egan Loo
Summer Story players must pronounce English properly to 3 female exchange students
---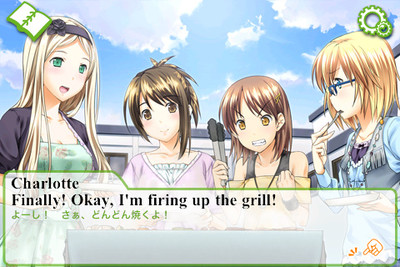 The Final Fantasy/Dragon Quest game developer Square Enix launched Summer Story, the first title in its Real Taiwa de Manabu Jissen Ei-Kaiwa (Learn Practical English Conversation Through Realistic Dialogue) series, as an iOS app on Wednesday. Not only can players listen to spoken English, but they must actually speak English with proper pronunciation to advance through the bishōjo game-style app.
In the game, the player interacts — entirely in English — with three female college students who are studying abroad in Japan. The three students are Allison Lloyd (a quiet 21-year-old gardening fan from a London suburb, far left in screenshot), Charlotte Ryan (lively 20-year-old aspiring tour conductor from Sydney, center right), and Elisabeth "Lisa" Ferguson (a 19-year-old anime fan from Florida, far right). The character Karen M. Turner (center left) appears as the player's 26-year-old college English teacher from Yokohama.
The app is compatible with Apple's iPhone, iPod touch (2nd-4th generations), and iPad devices with iOS 3.0 or higher. The Japanese iTunes Store offers the app for 800 yen (about US$10), while the American store offers it for US$6.99.
The visual novel distributor MangaGamer had previously announced Go Go Japan ~My First Trip~, a tour guide to Japan created in the form of visual novel software.
---
Source: Famitsu via Temple Knights
Image © 2011 Square Enix Co., Ltd.
---