Interest

Madoka Magica Cosplayers Rally for Tokyo Governor Candidate

posted on

2012-12-02

14:45 EST by Egan Loo
2 Madoka/Kyubey cosplayers hit the streets for Kenji Utsunomiya in this month's race
---
Kenji Utsunomiya, a human-rights lawyer and the former head of Japan's bar association, is running for Tokyo governor with two unexpected supporters by his side.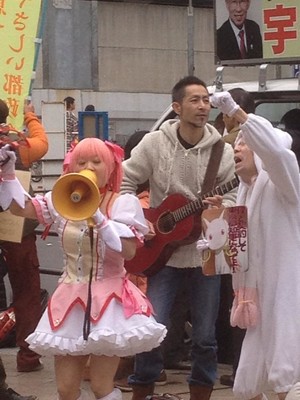 A cosplayer of Puella Magi Madoka Magica's title heroine held a rally in front of Tokyo's Harajuku Station last Sunday. A Kyubey cosplayer (or rather, a person wearing a Kyubey kigurumi outfit) joined the Madoka cosplayer is another rally. Kyubey's sign reads, "Make a contract with me, and you will become the Governor of Tokyo."
Utsunomiya's platform includes weaning Tokyo off nuclear power, tightening countermeasures against radioactive contamination, creating new jobs, making the city safe for children, and getting rid of bullying in schools.
Tokyo's top post opened up after Shintaro Ishihara resigned last month and started a run for the national legislature under a new party. The election will be held on December 16. Utsunomiya is running in a field of nine candidates, including Ishihara's handpicked choice, fellow writer Naoki Inose (Last News, Kaji Ryuusuke no Gi).
---