Interest

The Only Cake Decorated With Bleach's Ichigo & Your Face

posted on by Sarah Nelkin
Customizable roll cake can feature a photo, message for any occassion
---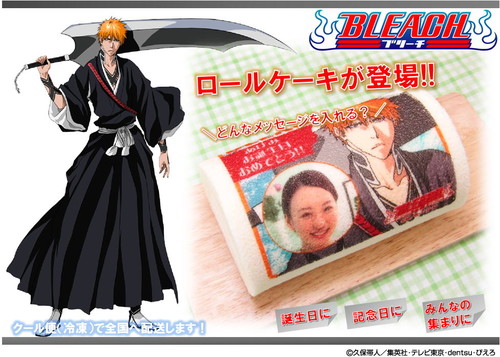 Eitsu, manufacturer of the customizable roll cake Priroll, began accepting orders for a collaboration roll cake with Tite Kubo's Bleach manga on July 11.
The white cake can be customized with a photo next to a character from the manga, and also include a message with up to 30 letters (the message above reads "Happy Birthday, Akemi!"). The design is then printed directly into the batter of the cake. The cake can also be ordered without a photo, or without a photo or message. Only the Ichigo Kurosaki design is currently available, but more designs from the manga are planned for the future.
The roll cake is 16 cm (about 6.3 inches) in length, 9 cm (about 3.5 inches) in width, and 7.5 cm (about 3 inches) in height, and is estimated to be able to serve four to five people. A cake without a message or photo is priced at 2,000 yen (about US$20), while a cake with only a message will cost 3,500 yen (about US$35), and a cake with a photo and a message will cost 4,500 yen (about US$45).
Custom roll cakes from the Magical Angel Creamy Mami, Naruto Shippuuden, and Polar Bear's Cafe anime are also available from the manufacturer.
Tite Kubo has been drawing the manga in Shueisha's Weekly Shonen Jump magazine since 2001, and Shueisha will publish the 60th volume next month. Viz Media published the 57th volume in North America last month.
Source: Presepe
---