News

Japan Post Service to Issue Patlabor Stamps in August

posted on by Egan Loo
---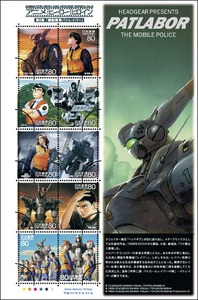 Not-So-Daily Link of the Day: The Japan Post Service will issue Mobile Police Patlabor postage stamps as the eighth installment in its Anime Hero/Heroine Series on August 22. The Headgear production team of screenwriter Kazunori Ito (Ghost in the Shell), mechanical designer Yutaka Izubuchi (RahXephon), director Mamoru Oshii (Ghost in the Shell), character designer Akemi Takada (Maison Ikkoku), and manga artist Masami Yuuki (Birdy the Mighty) created this near-future manga and anime about a police unit with robotic mecha.
The ten 80-yen (about US$0.74) stamps will feature the Ingram and Zero labor units as well as the characters Noa Izumi, Isao Ohta, Shinobu Nagumo, Asuma Shinohara, and members of Tokyo Metropolitan Police's Special Vehicle Section 2. Previous stamps in the series have included Pokémon, Gundam, Galaxy Express 999, Detective Conan [Case Closed], Neon Genesis Evangelion, Future Boy Conan, and Manga Nihon Mukashi Banashi.
Thank you to Brian Ruh for the news tip.
---