×
remind me tomorrow
remind me next week
never remind me
Just 4 Days Left to Enter the Pumpkin Carving Contest! • The competition is heating up but there's still time to enter for a chance to win over US$1,000 in anime DVDs and swag! Click to find out how!
read more
News

Shin Mazinger Shōgeki! Z-Hen TV Remake Set for 2009

posted on by Egan Loo
---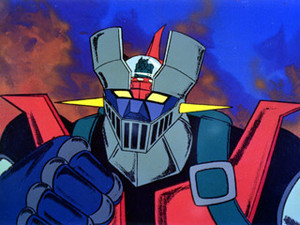 The 133rd issue of World Photo Press' Figure Oh magazine will announce on Tuesday that the Shin Mazinger Shōgeki! Z-Hen remake of the classic Mazinger Z super robot manga and anime (pictured at right) will air this year. Yasuhiro Imagawa (Giant Robo, Mobile Fighter G Gundam, Seven of Seven) is directing and writing this adaptation of the original story by Go Nagai (Cutie Honey, Devilman, Getter Robo) and his Dynamic Planning studio. Shinji Takeuchi (Gintama) is designing the characters, while Bandai's Tsuyoshi Nonaka (D.I.C.E.) is designing the title robot and the franchise's trademark enemies, the Kikaijū (mechanical monsters). Akira Miyagawa (Emily of New Moon) is composing the music, and BEEMEDIA and Code are producing the animation.
The cast is as follows:
Kenji Akabane: Kōji Kabuto
Ayumi Fujimura: Shirō Kabuto
Yasuaki Suzuki: Jūzō Kabuto
Youko Honda: Sayaka Yumi
Hiroshi Naka: Sennosuke Yumi
Atsushi Imaruoka: Ankokuji Keiji
Miyuki Ichijou: Tsubasa Nishokiori
Masayuki Katou: An
Seiko Tomoe: Kikonosuke
Kazuhiko Kishino: Dr. Hell
Kōya Ishitobi: Baron Ashura (Male)
Kaori Yamagata: Baron Ashura (Female)
Minoru Inaba: Count Brocken
Tesshô Genda: Cross Narration
Source:
Moon Phase Comments
---