News

Miyazaki's Ponyo Opens at #9 with US$3.6 Million (Updated)

posted on by Egan Loo
Ghibli's latest film is already 8th highest grossing U.S. theatrical anime release
---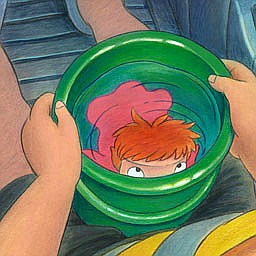 The Box Office Mojo website reports that Hayao Miyazaki and Studio Ghibli's Ponyo anime film earned an estimated US$3,506,000 during its opening weekend in the United States to land at #9 on the box office chart. With 927 theaters, the film release had an estimated per-screen average of US$3,782. After its first weekend, Ponyo is already the 8th highest grossing theatrical anime release in the United States, above Princess Mononoke, Pokémon 4Ever, and Ghost in the Shell 2: Innocence. By comparison on their first full weekend of release, Princess Mononoke (1999) earned US$144,446 on eight theaters, Spirited Away (2002) earned US$449,839 on 26 theaters, and Howl's Moving Castle (2005) earned US$427,987 on 36 theaters.
The film's story follows an ordinary boy named Sosuke (Frankie Jonas in the English dub) and his friendship with Ponyo (Noah Cyrus), an unusual goldfish from the seas. The other English-language castmembers include Cate Blanchett, Matt Damon, Tina Fey, Cloris Leachman, Liam Neeson, Lily Tomlin, and Betty White. The Yahoo! Movies and Apple websites have been streaming the trailers.
Neill Blomkamp's District 9 film, which also opened in the United States on Friday, topped the box office chart with an estimated US$37,000,000.
Update: Box Office Mojo has posted the final numbers for Ponyo's opening weekend. Earnings for the movie were US$3,585,852, or US$3,868 per screen.
Image © 2008 Nibariki, GNDHDDT
© Disney Enterprises, Inc.
---
This article has a follow-up:
Miyazaki's Ponyo Drops to #12 with US$2.4 Million (Updated)
(2009-08-23 13:13)
follow-up of
Miyazaki's Ponyo Brings in US$1.2 Million on Friday (Updated)