News

Funimation Recalls 1st Birdy the Mighty Decode DVD Set (Update 2)

posted on

2010-10-20

20:02 EDT
Part 1's replacement will ship with part 2 on November 30
---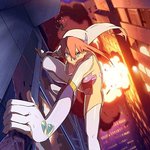 According to online retailer The Right Stuf International, Funimation has issued a recall for the first DVD collection of the Birdy the Mighty Decode anime series for an unspecified reason. The DVD set had a street release date scheduled on October 26. Right Stuf says if a customer already received the set, he or she can return it in exchange for the replacement that is scheduled for November 30. According to The Anime Corner Store, Funimation will ship the replacement version of Part 1 to retailers with Part 2, which is also scheduled for November 30.
Update: Right Stuf President/CEO Shawne Kleckner reports on the AnimeOnDVD forum that one of the discs has the wrong content in a replication issue. Thanks, Mr Boobo.
Update 2: Funimation has issued the following statement on Thursday:
After its manufacture we discovered a problem specific to disc two of the Birdy the Mighty: DECODE, Part One release scheduled for October 26. This is a replication error in which the wrong video was encoded on disc two. We have rescheduled its release for November 30 coinciding with the release of Birdy the Mighty: DECODE, Part Two. If consumers have already received this title, they should contact the retailer from where they made the purchase to return the product and make arrangements for receiving Birdy the Mighty: DECODE, Part One when it is re-issued. We apologize for the inconvenience.
---