News

Otakon Hosts Eminence's Hiroaki Yura, Vocalist Mari Yoshida

posted on by Andrew Osmond
---


The organizers of Otakon announced on Wednesday that Hiroaki Yura and Mari Yoshida will appear at the July 29 - July 31 convention in Baltimore. Otakon also announced that it will host the 2D premiere of the Tekken: Blood Vengeance film.
Yura collaborated with musician Hiroki Kikuta and singer/songwriter Shihori on Otakon 2010's opening animation, produced by the Production I.G anime studio. Yura composed the video's theme song, "Shackles of Night."
A violin soloist, Yura is the founder of Eminence Symphony Orchestra and the Eminence Artists. He has directed orchestral recordings for works including The Tower of Druaga: the Aegis of Uruk. Eminence Symphony Orchestra also performed music for the anime Romeo × Juliet. Yura appeared at Otakon last year.
Vocalist Mari Yoshida will debut with the Last Goodbye project by EDAMAMATION, singing music composed by famous Japanese composers.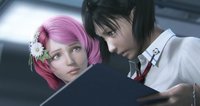 Digital Frontier (Resident Evil: Degeneration) adapted the Tekken fighting game franchise into the computer-animated feature Tekken: Blood Vengeance. Bandai Entertainment, NCM Fathom, and Namco Bandai Games America screened the 3D version of the film in more than 375 theaters on Tuesday. The film will open in Japan on September 3.
Otakon 2011 will be held at the Baltimore Convention Center.
---