News

Kami Voice Film to Have Anime Sequence by Production I.G

posted on by Jennifer Sherman
Popular voice actors star in manga-based live-action film
---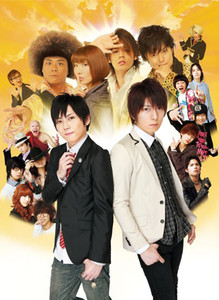 Cinema Today revealed that the seiyū (voice actor) live-action film Kami☆Voice~The Voice Makes a Miracle~ will include an animated sequence created by well-known anime studio Production I.G As an adaptation of Yoshiki Sakurai, Team G.V. and Kuroko Yabuguchi's Kami Voice (God Voice) manga, the film is intended to appeal to fans of both seiyū and anime. Cinema Today also announced additional cast for the film starring voice actors Yuuki Kaji and Wataru Hatano.
Roko Takizawa (Soreike! Anpanman, Crayon Shin-chan) and prolific voice actress Masako Nozawa are joining the cast. Nozawa's numerous anime lead roles include Dragon Ball's Son Goku, Galaxy Express 999's Tetsuro Hoshino, and Gegege no Kitarō's Kitarō.
Prominent voice actors performing in the film also include:
The film centers around two childhood friends (Kaji and Hatano) whose goal is to become seiyū (voice actors). Sakurai (Redline, Ghost in the Shell: Stand Alone Complex: Solid State Society scriptwriter), and Team G.V. wrote the original Kami Voice manga and Yabuguchi (Gimmick!, Nokizaru) provided the artwork. The manga began serialization in Monthly Shōnen Rival earlier this year.
Kami☆Voice~The Voice Makes a Miracle~ will open in theaters throughout Japan on November 19.
Source: Cinema Today
Image © 2011 Team G.V.
---