×
remind me tomorrow
remind me next week
never remind me
Subscribe to the ANN Newsletter • Wake up every Sunday to a curated list of ANN's most interesting posts of the week.
read more
News

Japanese Box Office, August 3-4

posted on by Crystalyn Hodgkins
---

Studio Ghibli and Hayao Miyazaki's The Wind Rises (Kaze Tachinu) anime film stayed at #1 during its third weekend. The film centers on Jirō Horikoshi (played by Evangelion director Hideaki Anno), the designer of Japan's famed Mitsubishi A6M Zero fighter plane of World War II. The film earned 555,316,399 yen (US$5,764,739) on 454 screens for a new total of 4,376,680,443 yen (US$45,434,319).

The Kamen Rider Wizard in Magic Land and Zyuden Sentai Kyoryuger: Gaburincho of Music films debuted at #5. Kamen Rider Wizard, the latest live-action tokusatsu (special-effects) television series in the long-running Kamen Rider franchise, premiered in Japan last year. The film follows the protagonist Haruto, Koyomi, and a boy named Shiina after they are transported to "Land of Magic" by a rainbow-colored whirlwind. There, they meet Kamen Rider Sorcerer (Takanori Jinnai). The films earned 251,673,567 yen (US$2,612,623) on 303 screens.

The Pokémon the Movie: ExtremeSpeed Genesect film fell from #3 to #6 in its fourth weekend. Kunihiko Yuyama's feature film is billed as the final chapter of Pocket Monsters: Best Wishes! (Pokemon: Black and White!). It features a confrontation between the legendary Pokémon ExtremeSpeed Red Genesect and Mewtwo, who returns in this installment in an alternate form. The film earned 127,934,290 yen (US$1,328,085) on 345 screens for a new total of 1,874,013,066 yen (US$19,454,129).

The Gekijōban Gintama Kanketsu-hen: Yorozuya yo Eien Nare (Final Gintama: The Movie: Be Forever Yorozuya) film fell from #7 to #9 in its fifth weekend. The film has a brand-new story written by original manga creator Hideaki Sorachi. The main cast for the original anime is returning once again for the movie. The film earned 50,856,259 yen (US$527,938) on 127 screens for a new total of 1,315,358,931 yen (US$13,654,741).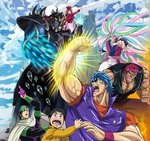 Gekijō-ban Toriko Bishokushin no Special Menu, the first film based on Mitsutoshi Shimabukuro's Toriko manga, ranked at #11 on Box Office Mojo's chart during its second weekend. The movie deals with Acacia the Bishokushin ("Gourmet God") and the secret special menu that lies dormant on a fabled island. Toriko also deciphers the mystery of the ruins there. The "4 Heavenly King Bishokuya" must protect the island and face off against a new foe, the former Bishokukai brass Girimu. The film earned 25,235,541 yen (US$261,970) on 179 screens for a new total of 136,668,947 yen (US$1,418,760).

Soreike! Anpanman: Tobase! Kibō no Handkerchief, the 25th Anpanman film, fell from #8 to #12 on Box Office Mojo's chart in its fifth weekend. The film's theme is "hope" and it continues the theme of cheering up those affected by the March 2011 earthquake and tsunami disaster. The film is screening simultaneously with the "Minna de Teasobi: Anpanman to Itazura Obake" (Playtime for Everyone: Anpanman and the Mischievous Ghost) short. The film ranked at #8 on Box Office Mojo's chart and earned 15,962,725 yen (US$165,709) on 143 screens for a new total of 296,466,781 yen (US$3,077,621).

The Short Peace anime anthology featuring works from Katsuhiro Otomo, Shuhei Morita, Hiroaki Ando, and Hajime Katoki fell from #12 to #13 during its third weekend. The project earned 5,367,650 yen (US$55,721) on 25 screens for a new total of 59,921,901 yen (US$622,049).
Nintama Rantarō: Natsuyasumi Shukudai Daisakusen! no Dan (Ninja Kids!!! Summer Mission Impossible), the second live-action adaptation of Soubee Amako's long-running Rakudai Ninja Rantarō ninja gag manga, fell from Box Office Mojo's chart in its fifth weekend.
Sources: Kogyo Tsushinsha, Box Office Mojo
---
This article has a follow-up:
Japanese Box Office, August 10-11
(2013-08-19 20:15)
follow-up of
Japanese Box Office, July 27-28