×
remind me tomorrow
remind me next week
never remind me
Subscribe to the ANN Newsletter • Wake up every Sunday to a curated list of ANN's most interesting posts of the week.
read more
News

Meganebu Anime's Promo VIdeo Profiles Shy, Glasses-Wearing Yukiya

posted on by Egan Loo
Junichi Suwabe
plays mysterious, sheltered Yukiya Minabe in October anime
---
The official website for the Meganebu! (literally, "Eyeglasses Club") television anime began streaming the Yukiya version of the second promotional video on Monday. In the video, voice actor Junichi Suwabe introduces himself as Yukiya Minabe, a 17-year old mysterious shy boy who spends most of his time indoors.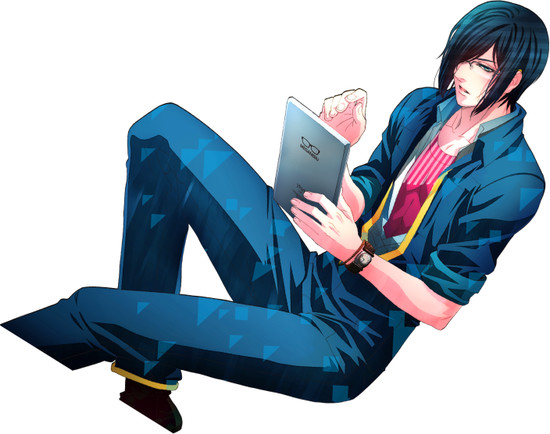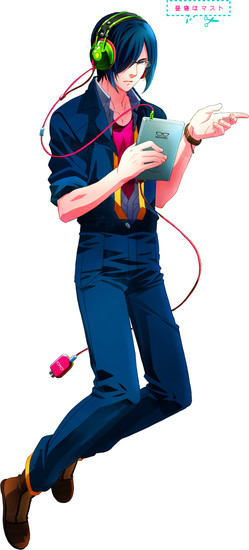 The second-year student at Himaraya Third Technical High School is a childhood friend of the club president Akira. He considers eyeglasses to be a landmark innovation in modern Japan, one that ought to be praised. He is very wise because he looks up things immediately on his "yPad," but because he has no actual experience in many things, he is often considered sheltered. He never misses having at least one hour of nap time a day. Yukiya's favorite kind of glasses are metal top-rimmed glasses, and his vision is 0.01 in both eyes.
Likes: omelets
Dislikes: monjayaki (a okonomiyaki-like fried dish)
Birthday: November 11 (Scorpio)
Body: 178 cm (about 70 inches) / 63 kg (139 pounds) / blood type B
Family: father, mother, two little sisters (twins in sixth grade)
The rest of the cast includes: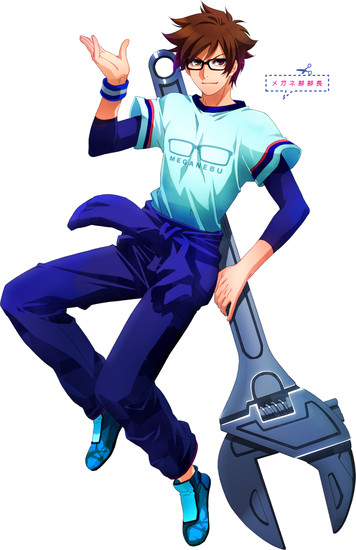 Kenji Akabane
plays Akira, a 17-year-old second-year student at Himaraya Third Technical High School. He proclaims that eyeglasses are not a means of correcting vision or a fashion accessory, but a better way to see the world.
He categorizes all of humanity into three groups: "glasses," "those who don't wear glasses," and "the ladies." He scolds those who wears contacts, going around and calling them "weaklings!!" There are many times when he, the passionate boy that he is, would argue with his fellow club-mates about glasses. His favorite kind of glasses are ones with square frames, and both of his eyes have 0.03 vision.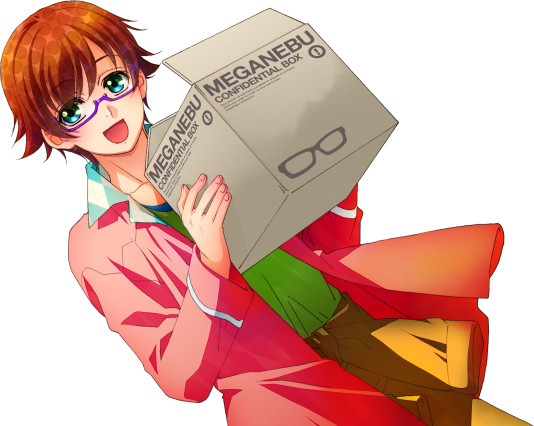 Kouki Miyata
plays Mitsuki Kamatani, a 16-year old cute little brother-type character who adores Akira. He entered the eyeglasses club because he wanted to help his beloved upperclassman. Due to his extreme amount of respect, he sometimes has a split personality. He works very hard because he wants Akira to rely on him. When he first entered the school, he had uncool glasses, but he bought his new glasses with Akira. His favorite type of glasses are under-rim cel frames, and his vision is 0.08 in his left eye, and 0.4 in his right.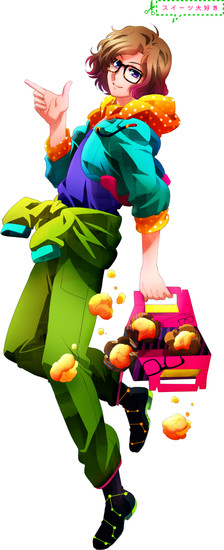 Atsushi Tamaru
plays Takuma Hachimine, a 17-year old slow-paced, spacey boy who does not do much of anything, even when he is in the club room. He seems like a prince who would be good at studies, but in fact, he is lacking in sense. However, he treasures his friends even more than himself. His favorite kind of glasses are Wellington cel frames, and his vision is 0.2 in his left eye, and 0.4 in his right eye (in the Japanese eyeglasses prescription notation).


Ryohei Kimura
plays Hayato Kimata, a 16-year old student and the bright mood-maker of the club. He is the only member of the club who wears glasses only for show. Because his eyesight was too good, he was refused entry into the club at first by Akira, but after asking again and again, he was finally accepted. Many of the members of the club think him annoying due to his nature to seek attention, but since he gets his way in the end, he doesn't mind at all. His favorite glasses are ones with oval-square cel frames, and he has 2.0 vision in both eyes.
Studio DEEN will be animating the project about a group of "ikemegane" (handsome eyeglasses-wearing) high school boys. Independent director Soubi Yamamoto (This Boy Can Fight Aliens!, This Boy Caught a Merman) is making her television anime directorial debut with Meganebu!, Atsuko Nakajima (Hakuōki, Ranma ½) is designing the characters, and Deco Akao (Bakugan: Mechtanium Surge, Arakawa Under the Bridge) is supervising the series scripts.
The anime was announced in June and is based off a drama CD series starring a different voice cast, including Shinnosuke Tachibana, Takahiro Mizushima, Takashi Kondou, Masakazu Morita, Daisuke Namikawa, and Go Inoue.
The television anime will premiere this October.
Images © 2013 Meganebu! Project/Meganebu! Film Partners
---