News

Gantz Creator Oku Co-Creates Shōjo Manga 1-Shot

posted on by Crystalyn Hodgkins
---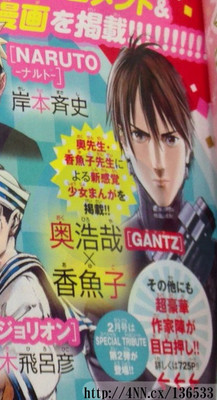 The December issue of Shueisha's Betsuma magazine is announcing on Wednesday that Shueisha will publish a special tribute in its next issue as a part of the 50th anniversary celebrations for the magazine. The tribute extra will include comments from various manga creators, as well as a one-shot "shōjo manga with a new feeling" that Gantz creator Hiroya Oku will publish with The Earl & the Fairy manga artist Ayuko. The 42-page collaborative manga will be titled "Ito" (Thread). The January issue of Betsuma is slated to ship on December 13.
Authors that will write congratulatory messages in the issue include: Naruto's Masashi Kishimoto, One Piece's Eiichiro Oda, Assassination Classroom's Yusei Matsui, Jojolion's Hirohiko Araki, Gintama's Hideaki Sorachi, Kuroko's Basketball's Tadatoshi Fujimaki, Terra Formars' Kenichi Tachibana, Haikyu!!'s Haruichi Furudate, New Prince of Tennis' Takeshi Konomi, Blue Exorcist's Kazue Katō, Bleach's Tite Kubo, Reborn!'s Akira Amano, Rozen Maiden's Peach-Pit, Kakko-Kawaii Sengen!'s Jigoku no Misawa, Death Note's Takeshi Obata, Pyu to Fuku! Jaguar's Kyosuke Usuta, Kingdom's Yasuhisa Hara, One-Punch Man's ONE and Yuusuke Murata, Kochikame's Osamu Akimoto, Beshari Gurashi's Masanori Morita, Biorg Trinity's Oh! great and Ōtarō Maijō, Isobe Isobee Monogatari ~Ukiyo wa Tsurai yo~'s Ryō Nakama, Nisekoi's Naoshi Komi, Tokyo Ghoul's Sui Ishida, Claymore's Norihiro Yagi, Inosan's Shinichi Sakamoto, Saiki Kusuo no Psi Nan's Shūichi Asō, and Zetman's Masakazu Katsura.
Additionally, the tribute will include a second printing of the two-chapter crossover between Kazune Kawahara (High School Debut) and artist Aruko's My Love Story!! (Ore Monogatari!!) manga and Naoshi Komi's Nisekoi manga.
The February issue of Betsuma will include the second part of the special tribute for the magazine's anniversary.
---