News

Ultraman's Tsuburaya, Mages' Shikura Make Spacium Shonen Project

posted on by Karen Ressler
Project comes from Specium;Boys April Fools' Day joke
---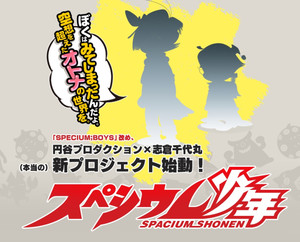 MAGES and 5pb. producer Chiyomaru Shikura (Robotics;Notes, Steins;Gate) announced this Friday that he is collaborating with Tsuburaya Productions Co., Ltd. (Ultraman) on a new project titled Spacium Shonen. 5pb. previously revealed the project as Specium;Boys on April Fools' Day, but is not listed as a collaborator on Spacium Shonen.
The official website for the project includes the tagline "I saw it. The adult world that exceeds imagination" and lists Fields Corporation and Chiyomaru Studio along with MAGES and Tsuburaya.

The Apirl Fools' Day promo, pictured left, had the tagline "I saw it. A new world that exceeds imagination" and added "UFO. Alien. Kidnapping. Sightings record. Memory lost. Mothers of the disappeared. The town disappeared. A giant ring. Strange things happens to me the culprit who? This is April Fool's day. But, I believe, disbelieve is up to you....."
[Via: Otakumu]
Image © Tsuburaya Productions/ Mages/ Fields
---