News

Psycho-Pass: Mandatory Happiness PS4/Vita Game's Introduction Trailer Highlights Characters

posted on by Rafael Antonio Pineda
Game slated for release in N. America on September 13, Europe on September 16
---
NIS America began streaming an introduction trailer for its upcoming release of Mages and 5pb.'s Psycho-Pass: Mandatory Happiness PlayStation 4 and PlayStation Vita game on Tuesday. The trailer highlights the game's three new characters, and some scenes from the story.
The trailer also has a United Kingdom and French versions available.
The game is slated for release in North America on September 13 and Europe on September 16. NIS America plans to release the game on PC via Steam, but has not yet shared a release date.
The game will be available both physically and digitally, in both a standard edition and limited edition. NIS America will offer the game's limited edition for both PS4 and PS Vita, and it will retail for US$69.99 and US$59.99, respectively. The limited editions will come with a softcover artbook, soundtrack CD, three pencil boards, microfiber cloth, and collectible box.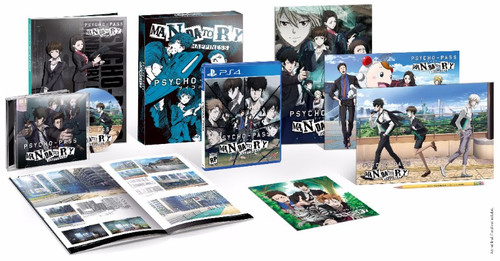 The game will feature the Japanese voice track with English subtitles.
The game launched in Japan for Xbox One in Japan in May 2015. The PS4 and PS Vita ports shipped on March 24 in Japan. 5pb. announced last July that it would launch the Xbox One game in Hong Kong with both English and Chinese subtitles.

Nitroplus created an original story for the game with Gen Urobuchi (Puella Magi Madoka Magica, Fate/Zero) providing the original plan and scenario supervision. The game is set within the timeframe of the first six episodes of the first television anime season. However, it shifts the setting from downtown to an isolated island.
One new male and female character each serve as the two protagonists who face off against a new enemy. Characters from the Unit 1 police team of the Public Safety Bureau's Criminal Investigation Division return for the game. The anime's Kyoji Asano (Attack on Titan, Tokyo Marble Chocolate) also returned to design characters based on Reborn! creator Akira Amano's original designs.
In the Xbox One release, the game captures players' true movements by utilizing the Kinect peripheral and SmartGlass feature. However, players can still play the game without Kinect and SmartGlass. The title allows players to send data from their smartphones to characters in the game, and this feature will also be supported on the PlayStation 4 version, but not the PS Vita version.
The original anime premiered on Fuji TV's late-night Noitamina programming block in 2012. Funimation streamed the 22-episode series as it aired, and then added home video rights in 2013. The Psycho-Pass 2 television anime series debuted in 2014, followed by the Psycho-Pass movie. Funimation released the film in theaters this March, and shipped it on Blu-ray Disc and DVD on June 7.
---