×
remind me tomorrow
remind me next week
never remind me
Subscribe to the ANN Newsletter • Wake up every Sunday to a curated list of ANN's most interesting posts of the week.
read more
News

Fate/Extella Action Game Adds Playable Karna, Lu Bu, Gawain

posted on by Karen Ressler
PS4/PS Vita game ships in November in Japan, winter in N. America
---
This year's July 21 issue of the Weekly Famitsu game news magazine will reveal a feature on Thursday that Marvelous, Inc.'s Fate/Extella action game for PlayStation Vita and PlayStation 4 is adding Karna, Lu Bu, and Gawain as playable characters.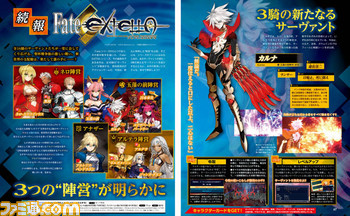 Previously revealed servants include the Saber class servants Artoria Pendragon (voiced by Ayako Kawasumi), Nero Claudius (voiced by Sakura Tange) and Attila (voiced by Mamiko Noto); Caster class servant Tamamo no mae (voiced by Chiwa Saito); Archer class servants Mumei ("no name," voiced by Junichi Suwabe) and Gilgamesh (voiced by Tomokazu Seki); Ruler class servant Jeanne d'Arc (voiced by Maaya Sakamoto); and Lancer class servant Elizabeth Báthory (voiced by Rumi Ookubo).

The game will ship in Japan on November 10. XSEED Games will release the game in North America on the PS4 and PS Vita this winter under the title Fate/EXTELLA: The Umbral Star. The company describes the game:
Expanding upon the extensive and much-beloved Fate universe with a standalone story from acclaimed series writer Kinoko Nasu (of Fate/stay night fame), Fate/EXTELLA: The Umbral Star, developed by Marvelous, Inc., transpires on the new world of Extella through a diverse cast of "Servants" – ancient warriors of legend and imagination, always at their Masters' orders – who survived the Holy Grail War that took place on the Moon. In a future ruled by the all-powerful lunar super computer Moon Cell Automaton, these champions now duke it out for dominance over this digital realm, known as "SE.RA.PH." This story takes place after the events described in Fate/EXTRA, and depicts the world after that previous Holy Grail War. Players will experience the story from the independent perspectives of the three heroine Servants and face off against foes from a variety of Fate productions, including characters from Fate/stay night, Fate/Apocrypha and Fate/Grand Order, in fast-paced action. A new form change battle mechanic debuts in this entry to match its series-first gameplay style, transforming the player-controlled Servants and granting them considerable powers that allow them to devastate enemies and take formidable challenges head-on.
Kinoko Nasu is writing the game's main scenario, and Hikaru Sakurai is the scenario assistant. Aruko Wada is designing the characters, and Takashi Takeuchi is credited as the Fate series original character designer. Type-Moon is producing the game's music.
The game will have a premium limited edition in Japan with both the PS4 and PS Vita editions, which will include: a "Saber Bride" 3D mouse pad, Fate/Extella material, and download codes for a "bondage wedding dress" outfit for Nero Claudius and the "Coldhearted Bloodless Warden" costume for Gilgamesh. The PS4 and PS Vita editions will also each get a separate limited edition with the Fate/Extella material and a DLC: the PS4 limited edition will offer the Nero Claudius outfit DLC while the PS Vita limited edition will offer the Gilgamesh outfit DLC.
Source: Famitsu via Siliconera
---