News

Kana Ichinose, Konomi Kohara Join Cast of Hitori Bocchi no Marumaru Seikatsu Anime

posted on by Crystalyn Hodgkins
School comedy anime premieres in April
---
The official website for the television anime of Katsuwo's Hitori Bocchi no Marumaru Seikatsu (Solitary "__" Life, or Hitori Bocchi's "__" Life) manga revealed two more cast members on Sunday.
Kana Ichinose as Kako Kurai (the character name in Japanese order "Kurai Kako" is a pun for "shadowy past"). She is a public morals committee member whose motto is "disorder in the body is disorder in public morals." Her rule is to not make friends, and her goal is to become a strong person who can live alone. But she is weak to unexpected or surprising things. She wants to know more about Bocchi's way of thinking.


Konomi Kohara as Kai Yawara (the character name in Japanese order "Yawara Kai" is a pun for "gentle"). She was Bocchi's friend in elementary school. She has a bright personality and gets along with everyone. She's worried about Bocchi being alone in middle school, and she makes a promise with Bocchi that "if you don't make friends with everyone in your class by graduation, I'll break off our friendship." She's always considerate of Bocchi's feelings.


The anime will premiere in April. Previously revealed cast members include:
Chisaki Morishita as Bocchi Hitori (the character's name in Japanese order "Hitori Bocchi" is a pun for "all alone"). She is a new student to Sakura Dai Ni Middle School, and is very awkward at socializing. She made a promise to Kai, her friend from grade school, that she will befriend her entire class before graduating from middle school. She is constantly filled with anxiety, and approaches any situation with careful planning. She has a keen eye for how her uniform looks.


Minami Tanaka as Nako Sunao (the character's name in Japanese order "Sunao Nako" is a pun for "honest girl"). Bocchi's first friend in middle school. She sits in front of Bocchi in class. She looks stern, and often intimidates people from her outward appearance, but she is actually very caring toward her friends. She always supports Bocchi's attempts at making friends. She never does anything she doesn't want to do.


Akari Kitō as Aru Honshō (the character's name in Japanese order "Honshō Aru" is a pun for "has a hidden side"), the vice president of Bocchi's class. She is responsible, always smiling, and is considered reliable by everyone. However she actually has a pitiful side to her that only Bocchi and Nako know. She has tried really hard to become perfect ever since she entered middle school.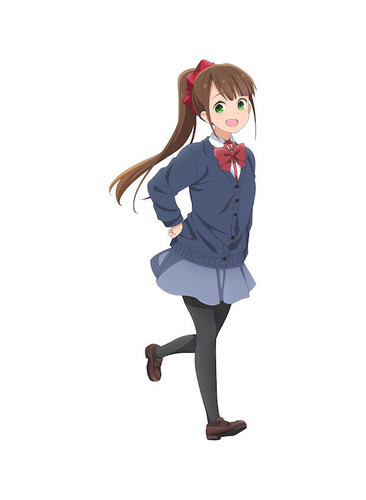 Yūko Kurose as Rakita Sotoka (the character's name in Japanese order "Sotoka Rakita" is a pun for "came from outside") a beautiful foreigner with blonde hair and blue eyes, and whom everyone looks up to. She came to Japan alone. She has always wanted to be a ninja, and somehow mistook Bocchi for a ninja. Now having been taken in as a pupil, she has begun training. She is very dexterous, and is good at making origami.



Takebumi Anzai (Go! Go! 575 director, episode director for Darker than Black and Mob Psycho 100) is directing the anime at studio C2C (Harukana Receive, WorldEnd). Jukki Hanada (Beyond the Boundary, Sound! Euphonium, Steins;Gate) is both overseeing and writing the series scripts, and Kii Tanaka (Donten ni Warau Gaiden: Ketsubetsu, Yamainu no Chikai, Cheating Craft) is both the character designer and chief animation director. Ryuuichi Takada and Hidekazu Tanaka of monaca are composing the music, and Shigeru Saitō of Heart Company is producing the music at Kadokawa.
The four-panel comedy manga centers around an extremely shy girl named Bocchi Hitori. (Her name is a wordplay on a Japanese term for solitary.) She enters middle school and vows to "make friends with the entire class" by graduation. The story follows her lonely struggle to accomplish her goal.
Katsuwo (Mitsuboshi Colors) serializes the manga in Kadokawa's Comic Dengeki Daioh "G" magazine, and Kadokawa published the fourth compiled book volume in February 2018.
Sources: Hitori Bocchi no Marumaru Seikatsu anime's official website, MoCa News
---