Organic Hobby USA: Revoltech New Movie Edition Evangelion Positron Rifle & ESW Shield Set
Organic Hobby, Inc releases the New Movie Edition Accessories Set as a part of Kaiyodo's 2G Revoltech Series, "Revoltech New Movie Edition Evangelion Positron Rifle & ESW Shield Set"
After the successful releases of the first generation of Revoltech's figures sculpted by the brilliant "Yamaguchi Katsuhisa.", Organic Hobby, Inc in conjunction with Kaiyodo proudly introduces its two new products for the U.S. market, "Revoltech New Movie Edition Evangelion Positron Rifle & ESW Shield Set."
● The concept of "REVOLTECH" is an innovative joint system that allows the figure(s) to demonstrate any kind of dynamic and realistic pose unlike any other PVC action figure.
● Not only can advanced "figure modelers" demonstrate "cool" and almost real poses for each "REVOLTECH" figure but also the consumers as well.
● Organic Hobby, Inc in conjunction with Kaiyodo will release every month, two to three new character figures as part of the "REVOLTECH Series."
The following items set to be released in August ~ September are:
- New Movie Edition Evangelion Positron Rifle & ESW Shield Set is the weapon/accessory used by "Revoltech Eva-01 Type-G (New Movie Edition)" & "Revoltech Eva-00 (New Movie Edition)" and based on the upcoming movie "Rebuild of Evangelion."
The accessories set will be available in August-September with a SRP of $22.00.
These new Revoltech figures are based on the upcoming movie "Rebuild of Evangelion" which will consist of four movies. The first three movies will be an alternate retelling of the TV series (including many new scenes, settings, backgrounds, characters), and the fourth movie will be a completely new conclusion to the story. Hideaki Anno wrote the scenario for the first movie and is the general director and manager for the entire project. Kazuya Tsurumaki is the director of all movies while Yoshiyuki Sadamoto provided the character designs and Ikuto Yamashita the mechanical designs. Shinji Higuchi provided the storyboards for the first movie. The first one will launch this summer 2007, the second in January 2008, and the two final movies will be shown together in summer 2008.
The Positron Rifle is [9" H x 4" W] and the ESW Shield is [5 ½" H x 2 ½" W]. The accessories set comes in a window box and is sold separately (without the figures).
Organic Hobby is one of the largest Hobby and Toys makers/manufacturers in Japan and is also very popular for its specialty in "Anime & Manga" industry. Organic Hobby, Inc (U.S Office) is introducing these and other unique products based on J-POP culture to U.S. markets and customers. All of our company's product can be found throughout our official distributors such as AAA Anime, Diamond, Double Dragon, Entertainment Earth, BBCW, Yes Anime, etc...
For more information, call Stephane at (310)575-3084.
ORGANIC HOBBY, INC.
11835 West Olympic Blvd, Suite 210E
Los Angeles, CA 90064
Ph: (310) 575-3084
Fax: (310) 575-3054
Business Hours: Monday thru Friday
9am /PT - 6pm/PT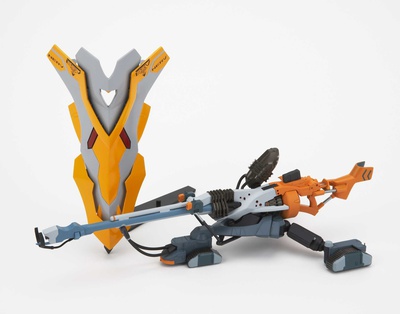 ---