On September 21 Get Ready to Revolt as Duelist Revolution Special Edition Arrives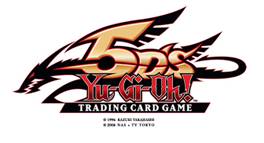 EL SEGUNDO, CA – (September 8, 2010) –
On the heels of the blockbuster hit, Duelist Revolution, comes the next anticipated Yu-Gi-Oh! TRADING CARD GAME release from Konami Digital Entertainment, Inc. (Konami). Each box of Duelist Revolution Special Edition includes three packs of Duelist Revolution plus one of two Super Rare variant cards, either
Gold Sarcophagus
or
Drill Warrior
!
Previously available only as a top prize card or as a Gold Rare, Duelist Revolution Special Edition makes
Gold Sarcophagus
more available to everyone and gives ultimate access to the one card players need most in their Deck! Duelists who activate this Spell Card can choose any card in their Deck and set it aside, and then two turns later can add the card to their hand. Players in a tight spot will find
Gold Sarcophagus
is the right card needed for setting-up a perfect card combo, or just getting a favorite monster, Spell, or Trap!
Popular and powerful, Yusei's
Drill Warrior
Synchro Monster is a proven tournament-winning addition to a Duelist's Deck.
Drill Warrior
is a triple-power card, with the ability to attack an opponent's Life Points directly, remove itself from play so it can't be destroyed, and return a monster from the Graveyard back to a player's hand! This all-in-one utility monster exploded onto the tournament scene in early 2010, and Duelist Revolution Special Edition provides the best chance yet to get a copy!
In addition, each box of Duelist Revolution Special Edition (MSRP $9.99) includes three booster packs of the recently released Duelist Revolution booster set. This amazing 100-card set includes cards such as the brand new and versatile
Fabled Raven
Tuner monster and the much talked about Spell Card
Pot of Duality
which gives the holder a choice from among the top three cards of their Deck.
For more information on Konami, the Yu-Gi-Oh! TRADING CARD GAME or Duelist Revolution Special Edition, please visit
www.yugioh-card.com
or call
310-220-8630
.
About The Yu-Gi-Oh! TCG
The Yu-Gi-Oh! TRADING CARD GAME is the #1 trading card game in the world with over 22 billion cards sold. It is a game of strategy, where players create individual Decks of cards collected from Structure Decks and Booster Packs. Two players engage in a Duel while using cards that represent powerful monsters, magical Spells and surprising Traps. Duelists with well-constructed Decks, dominating monsters, solid strategy and good fortune are the victors in the Yu-Gi-Oh! TCG. Konami Digital Entertainment, Inc. is the exclusive licensee and rights holder to the Yu-Gi-Oh! TCG in North America and Latin America.
About KONAMI
KONAMI is a leading developer, publisher and manufacturer of electronic entertainment properties and traditional trading card games.
KONAMI's software titles include the popular franchises Metal Gear Solid, Silent Hill, DanceDanceRevolution and Castlevania, among other top sellers. KONAMI is also the manufacturer of the wildly popular Yu-Gi-Oh! TRADING CARD GAME, which has sold more than 22 billion cards worldwide. The latest information about KONAMI can be found on the Web at
www.konami.com
. KONAMI CORPORATION is a publicly traded company based in Tokyo, Japan with subsidiary offices, Konami Digital Entertainment Co., Ltd. in Tokyo, Japan, Konami Digital Entertainment, Inc. in the United States and Konami Digital Entertainment GmbH in Frankfurt, Germany. KONAMI CORPORATION is traded in the United States on the New York Stock Exchange under the ticker symbol KNM. Details of the products published by KONAMI can be found at
www.konami.com
.


---