RIGHT TURN ONLY!!
Fine Old Fantasy
by Carlo Santos,

I know there have been times when I trashed on someone's favorite series. And the worst backlash I'll probably get is a small crowd of Angry Internet People, or maybe the Shonen Jump Defense Force calling for my head on a platter. But consider the cruel fate of game reviewer
Jeff Gerstmann
, who was dismissed from his job after giving out a review score that was, apparently, not high enough for certain corporate interests. Now, in a niche field like this, I'm fortunate to not have Big Business breathing down my neck, and I can dish out negative opinions with honesty. So next time I trash on your favorite series, imagine if I gave out automatic A's and B's just to kiss up to the fanbase or because the distributor/publisher/creator said so. You wouldn't like that very much either, would you?
---
HAYATE THE COMBAT BUTLER


Vol. 5
(by Kenjirō Hata, Viz Media, $9.99)
FROM THE BACK COVER:
"Since the tender age of nine, Hayate Ayasaki has busted his behind at various part-time jobs to support his degenerate gambler parents. And how do they repay their son's selfless generosity? By selling his organs to the yakuza to cover their debts! But fate throws Hayate a bone ... sort of.
To be truly considered a butler of the highest caliber, Hayate needs more than just punctuality, an unwavering sense of loyalty, and the ability to keep his mistress out of tight situations—he'll also need to develop the ultimate fighting technique! Despite his best efforts at avoiding violent confrontations, our butler-in-debt seems incapable of keeping out of duels. Thankfully, this time it's a non-life-threatening kendo match. Will the path of the sword help guide Hayate toward true domestic enlightenment?"
EVIDENCE FOR:
More than anything else,
Hayate
's brand of humor rewards readers who have an eye for detail: subtle anime-related jokes, allusions to previous story events, and one-shot visual gags that are almost too easy to miss. Take a close look at all the itty-bitty text written into the "How-To-Do-It Guide of the Secret Master Technique," or the blithe
otaku
discussion that goes on at Wataru's video rental store. That's the kind of cleverness that you won't pick up by rifling through a manga volume in 15 minutes. No matter which story arc it's going through—and there are several in this volume—this comedy always gets the best out of silly little situations: the dramatic animal imagery (hamster vs. dragon) when Hayate's former classmate meets Nagi, the sight of Tama the tiger chasing an intruder ("I want to lick her all over!"), or the absurdity of three scatterbrained students who keep calling him "Hayata." Wherever Hayate's adventures take him, strangeness and laughter are sure to follow.
EVIDENCE AGAINST:
Do you want to be bored? Do you want to force yourself into a half-hearted chuckle every time you see something remotely funny on a manga page? If so, keep on reading
Hayate
, which seems to be more interested in long, rambling stories instead of delivering a proper stream of humor. Just think of all the chapters wasted on the Hayate-breaks-into-school-at-night arc, for example, as he gets maybe two good gags out of it and spends the rest of the time mincing around in search of Nagi's notebook. Or the ill-fated cruise ship adventure, which goes for trite nautical jokes like sharks and capsizing. (Who's reading this, five-year-olds?) Then there's his continuing search for the ultimate technique, which is good for maybe one chapter's worth of humor, but then he keeps bringing it up after it stops being funny. And let's not even talk about the kendo chapter, which was nonsensical and anti-climactic at best. What it all adds up to is a bland, unsatisfying experience, one that's compounded by the equally bland artwork—crude lines and shading, nondescript secondary characters, and layouts so hellbent on cramming in the story that they destroy the rhythm of the jokes. This series might be getting the little things right, but what it adds up to is far less than the sum of its parts.
FINAL VERDICT:
Who knew that such a funny concept could get so dumb and pointless? Don't even bother trying to laugh at it—just give this one a
D+
and walk away.
---
SGT. FROG


Vol. 1-3 Collection
(by Mine Yoshizaki, Tokyopop, $12.99)
FROM THE BACK COVER:
"Sgt.
Keroro
, commanding officer of Planet Keron's invasion force, has a wee little problem. After blowing his cover and losing his top-secret weapon, this frog-like alien has been cut off from his home world. To make matters worse, he's lost communications with the rest of his platoon. Now he has taken cover in the Hinata family household, where he secretly devises new plans for taking over Earth. The only thing standing in his way from complete global domination? He has to keep up with his share of the household chores—there's laundry and vacuuming and dishes and taking out the trash, not to mention a house full of teens!"
EVIDENCE FOR:
Cheapskates and hardcore fans alike should find something to like about this omnibus edition: it's a good price for three volumes' worth, but it's also packed with enough story to introduce 4 of the 5 froggy aliens involved in the invasion. With the fast-moving plot and numerous screwball situations, this is one comedy that knows how to deliver laughs quickly and quit before a joke gets old. Continuity only ever lasts about 2 chapters at most, so if one plotline doesn't appeal to you, you can always give the next one a try just a few pages away. Wacky new characters show up at a pretty good pace—Keroro and subordinate Tamama own Vol. 1, hot-blooded Giroro shows up in Vol. 2, and swirly-eyed Kululu brings his brand of mad science in Vol. 3. All in all, a perfect blend of frogs hellbent on taking over the world—if they weren't so easily distracted by making Gundam models, trying to win the affection of the older sister in the house, or just cleaning up and enjoying domestic Earth life. In short, it's a comedy of exaggeration and deflation: our alien invaders puff themselves up with all this invasion talk, but in the end, they're just as normal and fallible as their human hosts. Now that's funny.
EVIDENCE AGAINST:
While the misguided antics of Sgt. Keroro and friends are fun and likable, there's also this nagging feeling that there should be ... well ...
more
. It's like they're not pushing themselves to the limits of comedic potential, instead choosing to lay back on tried-and-true sitcom material. Just look at how many of the chapters in this collection can be described as "[Some character] tries to [do something]. Hilarity ensues." This formula is particularly evident in Kululu's harebrained technological schemes, as well as the lovestruck machinations of classmate Momoka. And really, how many times are we going to see an attempted attack get deflected by some really silly, down-to-earth excuse? (Well, maybe this kind of repetition only becomes patently obvious after reading three straight volumes.) It's also hard to get excited about the super-simple artwork, which is just a few steps away from the banality of four-panel family gag strips. Because of the artistic limitations, there's really only one good visual gag in here (the "realistic human/frog suit") and everything else depends on character conflict. Once again, this comedy just seems to be holding itself back.
FINAL VERDICT:
The premise is a great start, the situations are fun, and the characters are instantly appealing—but once repetition and formula start kicking in, it's a
B-
at best.
---
SUGAR SUGAR RUNE


Vol. 7
(by Moyoco Anno, Del Rey, $10.95)
FROM THE BACK COVER:
"Duke, Chocolat's familiar, turns out to be her uncle Poivre! Now that he's back in human form, Poivre reveals a frightening secret about Chocolat's past. But Chocolat's friends stand by her—even when she must dare to enter the mysterious Underworld in search of her father."
EVIDENCE FOR:
Welcome, friends, to another regular installment of
The Latest Volume of Sugar Sugar Rune Was Freakin' Awesome
. That's pretty much the only way to say it, as this one's got drama, action, and back-story galore. If you thought the revelation of Chocolat's special power in Volume 6 was fantastic, just wait until this one, where we finally learn about the earth-shattering circumstances surrounding her birth. Not dramatic enough? Okay, move on to the next couple of chapters where the Ogre race tries to infiltrate Chocolat and Vanilla's school, creating a pandemonium of black hearts—it's a classic sorcery battle on all fronts, and when object-of-affection Pierre jumps into the fray, well ... it takes just a few more pages to turn into the saddest, most beautiful moment in the entire series (end of Chapter 36). The only way to top that kind of emotional juggernaut, perhaps, is to send in an artistic juggernaut—which is exactly what happens when the characters enter the Underworld for the first time. The sheer amount of detail and scale built into this world is a wonder to behold, and it is surely some kind of magic that Anno never runs out of visual flourishes and ideas to impress us with. But while you're busy drooling over the fancy artwork, don't forget to be wowed by the emotional depth and epic scale of the story as well. No more filler, no more farting around, just pure magical fantasy at its best.
EVIDENCE AGAINST:
The problem with epic storylines is that they have a tendency to get too big for their own good. Just look at all those lumbering
shounen
series with too many characters and too many subplots and people just get tired of reading them. Not to say that
Sugar Sugar Rune
is turning shounen anytime soon—it's got way too many hearts and stars for that—but when the volume leaves off on a really awkward midpoint in a story arc, that's when I start worrying. Just look at how the plotlines are starting to pile up: Chocolat's immediate concern is to save Pierre, but then she's also got to finish digging into her past, and meanwhile there's that ongoing war between the Ogre clan and the Magical World, and oh, wasn't there supposed to be some deal about Chocolat and Vanilla competing to be the next Queen? This volume delivers some fantastic dramatic moments, but we're reaching the stage where it's got to be careful about not leaving other plot threads behind.
FINAL VERDICT:
There was once a time when this might have been hailed as "one of the best magical girl series," but that's just a dinky subgenre, so now I'm upgrading it to "one of the best fantasy series." Ever. Period. That's an
A
.
---
THE GOOD WITCH OF THE WEST (novel)


Vol. 1: The Girl of Sera Field
(by Noriko Ogiwara, Tokyopop, $7.99)
FROM THE BACK COVER:
"Fifteen-year-old Firiel lives in the remote highlands with her father, a recluse obsessed with astronomy. Yet, life is more than pleasant for Firiel—her father's servants adore her, his kindly apprentice Rune is her best friend, and she's about to attend the Count's ball! But as Firiel prepares for the gala, she discovers her past is more complicated than she had thought—and she may be the heir to the throne! Unaware of the danger that faces her and all she loves, Firiel begins a courageous quest for truth."
EVIDENCE FOR:
It would be natural to think that this novel is just another Cinderella retread: a country girl with high aspirations makes her way to the royal ball, and just happens to attract the attention of a handsome young nobleman. But that's only Act One, and things take a very different twist after the ball is over: Firiel's simple life is ripped asunder, uncovering a world of royal and political intrigue, and everyone she's ever loved is taken away from her. Although it gives the impression of a light, frilly fantasy at first,
The Good Witch of the West
quickly gives way to mystery, drama and thrills as Firiel becomes involved with courtly conspiracies and tries to rescue Rune. The best part, perhaps, is simply entering this world and watching it gradually unfold, and knowing at the end that there's still much more to discover (if the subtle fairytale hints and talk of "heretical knowledge" are anything to go by). Ogiwara's glowing prose brings this world fully to life with colorful descriptions of towns, countrysides, castles, and the changing times and seasons; if you thought fantasy writing was getting musty and old, this will make everything feel new again.
EVIDENCE AGAINST:
Why does one of the pivotal characters in the story have to be so completely detestable? Rune might be the most complex personality in the entire cast, but his attitude problem makes him really tough to sympathize with. Meanwhile, the other characters suffer the fate of being generic fantasy mainstays: the willful heroine, the doting mother-figure, the cheerful little princess, the dashing nobleman. They're likable and familiar, but shallow at best, and even Firiel doesn't seem to have that much heroic drive—she spends more time having stuff done to her than actually doing things herself. Only in the last half or so does she start taking initiative, and that's mostly out of desperation. Heck, she doesn't even appear in the (painfully short) climactic battle and rescue mission—so what are we supposed to give her credit for at the end? She survives and hangs out with royal people? Doesn't sound like much of a heroic journey. Understandably, this is just the first novel in a longer series, but with all the stage-setting and world-building, it seems that we've forgotten to give the heroine something to do.
FINAL VERDICT:
This one sticks with a classic formula and makes it work—start with humble beginnings and build outward to create a beautiful, fascinating world. It's no
Twelve Kingdoms
, but it's good enough for a
B
.
---
ZOMBIE-LOAN


Vol. 1
(by Peach-Pit, Yen Press, $10.99)
FROM THE BACK COVER:
"Michiru Kita's a weak-spirited girl who has a hard time saying what's on her mind. One day, she notices mysterious, ring-like markings around the necks of two of her classmates, Chika Akatsuki and
shito
Tachibana—two boys who miraculously survived a horrible accident six months ago. Michiru, possessing the rare ability to see these rings, knows that they warn of impending death. Thinking that, perhaps, she can do something to save her classmates' lives, she approaches them ... but it seems the boys have already made a different kind of deal and garnered themselves a heavy debt."
EVIDENCE FOR:
If you liked
Rozen Maiden
for its dark, gothic side—and Suigintou is your favorite and Hina Ichigo can go to hell—then the logical next choice in the Peach-Pit catalog would be
Zombie-Loan
. Spirit-hunting and stylishness collide perfectly here; you can't go more than a few pages without pretty boys Chika and shito striking yet another sharp, sexy pose as they the twist the line between life and death. Action flows effortlessly from scene to scene, especially in the last few chapters as our heroes get into all sorts of epic danger. Michiru's dramatic change of character in the last few pages caps off the volume nicely, and an air of playful irreverence keeps the story from getting too serious—it's fun watching the boys pick on each other and on Michiru. With tight, confident linework and a well-spaced sense of layout (oh, and the aforementioned pretty boys), this is one vision of the afterlife that's guaranteed to please the eye as well.
EVIDENCE AGAINST:
Do manga publishers hate me? Are they trying to shove every single supernatural action/investigation series in my face until I die of it? Seeing this genre constantly repeat itself proves that Peach-Pit is, as usual, copying stuff. Come on, they even say that Michiru has the "shinigami eyes"—yeah, like we haven't heard
that
phrase before. It's pretty clear that this is going to turn into some kind of ghostbusting
bishounen
gawkfest, where the important thing is to check out Chika and shito's dashing good looks, and don't you dare ask about their personalities and back-story because they barely scratch the surface in that department. The details of Michiru's childhood and home life are skimped over as well, and the plot structure leading up to the first mission is exactly like how every other supernatural investigator does their first mission. This series may be pretty to look at, but it lacks a unique core to set it apart from other imitators and lookalikes.
FINAL VERDICT:
An attractive, eye-catching experience for fans of the genre, but the plug-and-play storyline and characters set it at about
C+
level.
---

THE OTHER SIDE OF THE MIRROR


Vol. 1
(by Jo Chen, Tokyopop, $9.99)
FROM THE BACK COVER:
"In the dismal backdrop of New York City, Southern-belle-turned-prostitute Sunny meets the college-educated Lou, who makes a living by out-drinking people at bars. What first starts as a night of drunken passion quickly spirals into unexpected love, as together they begin to search for meaning in a world that has all but deserted them..."
EVIDENCE FOR:
Welcome, Taiwanese comickers!
The Other Side of the Mirror
makes a good case for itself with its streamlined storytelling, whirlwind emotions, and sinuous
josei
-style art. It's not nearly as cheesy as the plot summary sounds, as there's a lot of complexity in the relationship between Sunny and Lou, which starts out on really bad terms (a kick in the balls, eh?) but evolves into this uneasy partnership borne out of desperation. And really, it's as a portrait of youthful desperation that this story excels: showing how hopes and dreams are crushed by the real world, how city life can bring out the worst in people, and how—when we've got nothing else to lose—life can turn us in some unexpected directions. A sophisticated visual style brings out the characters' strong emotions against the city setting: when they feel regret or despair or struggle or hope, it doesn't just show in their faces, but also in the dramatic staging of close-ups, action scenes, and flashbacks. And look, an international title that doesn't go overboard on the screentones for once! MAJOR bonus points right there.
EVIDENCE AGAINST:
What is this, another Woe Is Me book? While not as exasperating as acts of teenage self-flagellation, this whole "twentysomething slackers down and out" genre is getting pretty tired as well. It doesn't help that the story keeps piling on the urban clichés: an innocent country girl forced into a life of whoring, an ambitious clean-cut guy reduced to nothing by bad economic forces, crazy violent criminals on the streets, even an angry landlady harping on about the rent. All right, so it's New York, but it's the TV-and-movie version of New York ... fortunately the setting changes about halfway through the book, but that brings its own set of clichés with the down-home country folk and their ilk. The main relationship also moves too fast for comfort—how, exactly, did we get to Lou dropping
a certain very important question
on Sunny when they've only known each other a few days? Love sure makes people irrational. And the artwork, while nice to look at, is decidedly flat—not enough texture or shading, and a number of backgrounds look very forced, as if they were just exercises in perspective.
FINAL VERDICT:
A promising first volume that offers a solid, grown-up story about grown-up relationships. Just don't believe everything it says about big city life or how people fall in love.
---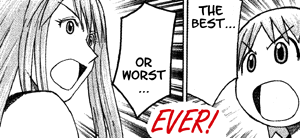 Ever have one of those days when you decide to settle for something half-decent, only to find out that it's far worse than anyone could have ever imagined? That's what happened when I stumbled upon another one of the
Worst Manga I've Ever Read
:
VAMPIRE KNIGHT


Vol. 1
(by Matsuri Hino, Viz Media, $8.99)
You know, I really wanted to give
Vampire Knight
a chance. I didn't even set my standards all that high—come on, it's got "Vampire" in the title, which is like an automatic letter-grade deduction. But even with these lowered expectations, the first volume is simply a debacle. It commits two cardinal sins of mediocrity: a story with characters I don't care about, and artwork with nothing attractive for me to look at. And that, combined, makes it BAD.
The plot revolves around vampire students who attend the Cross Academy boarding school, which is divided into a "Day Class" and "Night Class" (ooh, guess which one the vampires attend). When the Night students head out, it's the job of our heroine Yuki to keep the peace, mostly because of squealing vampire fangirls. As a child, Yuki was saved a vampire from the Night Class, so she believes in peaceful relations, but her fellow student monitor Zero had his family wiped out by vampires, so he's kind of bitter about the whole thing. Thus begins a tale of angsty proportions, where everyone talks about the pain and despair of (a) their childhood (b) their vampire nature (c) the school's policies (d) having to sit through this story. Okay, so maybe (d) is just
my
pain and despair, but it's hard to care about these characters when they're mostly just soulless variations on the "sexy male vampire" stereotype. Zero's conflicted attitude makes him mildly interesting, but his Terrible Secret is completely telegraphed at the end of Chapter 2, and when they spend the rest of the book harping on about it and how sad and tortured he is, it gets pretty irritating. Oh, and there is also some serious neck-biting, which just looks melodramatic and silly.
Now, if we could call the rest of the artwork melodramatic and silly, that would probably be an improvement on this style-less gray mess. Apparently the world of
Vampire Knight
exists in some hazy dimension where there are screentones and shadows everywhere, thus making everything look identical. That criticism also applies to the characters, who are pulled straight from the generic rent-a-bishounen catalog, and the poor layout and scene planning just make it more confusing. There's one part where Zero is arguing with a group of vampires, and then on the next page, you see a bunch of random guys standing around and—oh, wait, those are the same guys as before, except
it's really hard to tell
. With that kind of horrid awkwardness, I can understand Zero's attitude problem: if I were stuck in a story with no sense and no direction, I'd be pretty upset too.
---
discuss this in the forum (41 posts)
|