Anime Spotlight - Super Lovers 2
by ANN Staff,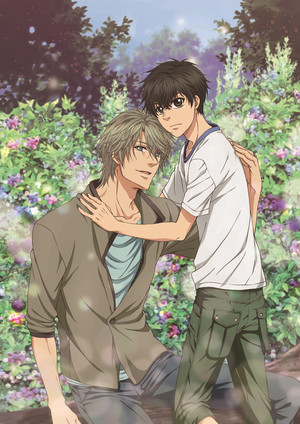 On air starting January 12, 2017

Key Staff
Director: Shinji Ishihira

(Fairy Tail, LOG HORIZON)

Series Composition: Yoshiko Nakamura

(Monthly Girls' Nozaki-kun, Hiiro no Kakera - The Tamayori Princess Saga)







Introduction
The second season of the TV anime adapting the hit manga by Miyuki Abe!! This anime is the continuing crazy love story spun by four brothers.
Story
Hey, do you remember the day we first kissed?
Ren—the youngest son of the Kaido household who moved from Canada to live with his eldest brother Haru—has finally started to adjust to his new life, and the café Haru runs has begun to run smoothly.
However, one day, everything suddenly changes when Haru's mother arrives at the Kaido household and declares, "I'm taking Ren with me and going back to Switzerland!" They had just started to become so close, but faced with this new dilemma, Ren and Haru begin to have more disagreements.
It looks like there might be even more trouble in their future...
Characters
Ren Kaido
Voice: Junko Minagawa

The fourth son of the Kaido family. However, he is not a blood relative of Haru, Aki, and Shima at all. He was abandoned in an alleyway in Canada when young, grew up in an orphanage, and was later adopted by Haruko.

Haru Kaido
Voice: Tomoaki Maeno

The eldest son of the Kaido family. He grew up in Canada until age 8, and has one-quarter foreign blood. His mother's name is Haruko. Aki and Shima are his half-brothers that share the same father. He is good-natured and good at taking care of others, but is a worrywart..

Aki Kaido
Voice: Yoshitsugu Matsuoka

The second son of the Kaido family and Shima's twin brother. His father also fathered Haru. A clever, energetic person.

Shima Kaido
Voice: Takuma Terashima

The third son of the Kaido family and Aki's twin brother. His father also fathered Haru. Calm, cool, and collected.

Ikuyoshi Sasaki
Voice: Ayumu Murase

A co-worker of Haru from when he worked at a host club. His stage name is "Iku". His family runs a farm.

Juzen Kurosaki
Voice: Jun Fukushima

Ren's classmate and friend at Seiryo Academy. He speaks with the Kansai dialect.

Haruko Daniella Dieckmann
Voice: Atsuko Tanaka

Haru's mother and Ren's foster mother. A dauntless author and physicist.

Mikiko Kashiwagi
Voice: Yoko Soumi

Haruko's friend, who is also a lawyer. She takes care of the Kaido brothers.

Kiri Kondo
Voice: Ryoko Shiraishi

Ren's friend who has spent time overseas. She is strong-willed and a slightly masculine girl.

Kiyoka
Voice: Mitsuki Saiga

The owner that runs the café & bar together with Haru. Haru's high school classmate.

Shiro Takamura
Voice: Ryotaro Okiayu

The school nurse at Soryo Academy, the school Ren attends.

Natsuo Shiba
Voice: Takuya Sato

The paternal cousin of the Kaido brothers who works at a host club as a host under the name "Natsu."
Cast
Ren Kaido

Junko Minagawa

Haru Kaido

Tomoaki Maeno

Aki Kaido

Yoshitsugu Matsuoka

Shima Kaido

Takuma Terashima

Ikuyoshi Sasaki

Ayumu Murase

Juzen Kurosaki

Jun Fukushima

Haruko D. Dieckmann

Atsuko Tanaka

Mikiko Kashiwagi

Yoko Soumi

Kiri Kondo

Ryoko Shiraishi

Kiyoka

Mitsuki Saiga

Shiro Takamura

Ryotaro Okiayu

Natsuo Shiba

Takuya Sato
Staff
Original Creator

Miyuki Abe

Director

Shinji Ishihira

Series Composition

Yoshiko Nakamura

Character Design

Miki Takihara

Assistant Director

Toshinori Watanabe

Art Director

Masakazu Miyake

Color Coordinator

Imari Katsuragi

Director of Photography

Asahiko Koshiyama

Editing

Masahiro Matsumura

Sound Director

Shoji Hata

Sound Effects

Noriko Izumo

Recording

Daiki Yamaki

Sound Production

DAX PRODUCTION INC.

Music

Yasuharu Takanashi & Shuji Katayama & Kenji Kato(Team-MAX)

Music Production

NIPPON COLUMBIA CO.,LTD

Animation Production

Studio DEEN

Produced by

SUPER LOVERS 2 Partners

Season 2 Opening Theme

"Hare Iro Melody" (Sunny-Colored Melody) by Yuto Yada

Season 2 Ending Theme

"Gyun to Love Song" (Powerful Love Song) by The Four Kaido Brothers [Ren Kaido (voiced by Junko Minagawa), Haru Kaido (Tomoaki Maeno), Aki Kaido (Yoshitsugu Matsuoka), Shima Kaido (Takuma Terashima)]




©2017 M/K/SLP2
---
discuss this in the forum (5 posts)
|
this article has been modified since it was originally posted; see change history