Interest

Tokyo's Odaiba McDonald's Gets Pokémon Makeover

posted on by Gia Manry
Restaurant's month-long revamp to mark
Pokémon
Black, White game releases
---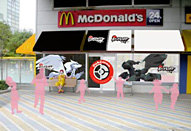 McDonald's Japan has announced that its restaurant on Tokyo's artificial island of Odaiba is going to be redecorated to celebrate the September 18 release of the newest Pokémon games, Pokémon Black and White. The redecoration will last from September 18 to October 18.
The Odaiba location will be the flagship store for a larger collaboration between McDonald's and Pokémon in Japan. Visitors to McDonald's throughout the country will be able to acquire a "liberty ticket" in-game item that gives them a chance to meet the legendary Pokémon Victini, as well as the Shin Pokémon Slot! machine mini-game. However, only the Odaiba store will feature the extensive redecorations.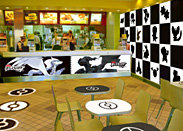 Odaiba has been home to numerous anime-related exhibits, including the "life-size" Gundam statue which was on display for the summer of 2009, and more recently an 8-meter Hello Kitty display.
This is not McDonald's first time promoting anime-related titles, either; McDonald's in Japan has offered Sgt. Frog Happy Meals, and the U.S. has seen Yu-Gi-Oh! GX Happy Meals, Bakugan Battle Brawlers Happy Meals, and Astro Boy Happy Meals. Naruto Happy Meals were released in Latin America earlier this year.
The Pokémon Black and White video games will be released in Japan on Saturday, September 18. North American and European releases for the games are planned for spring of 2011. The current-generation Pokémon anime, Pokémon - Diamond and Pearl, is slated to end this fall, to be replaced with a new anime series titled Pocket Monsters: Best Wishes!
[Source: andriasang via Zotaku]
---