Interest

2ch Forum's Saimoe Tournament 2010, Finals

posted on by Egan Loo
---
The Anime Saimoe Tournament is an annual poll in which users from Japan's 2channel message board vote on the most moe (preciously cute) female anime character. Any female character in a television anime, anime film, original video anime (OVA), or web anime released between July 1, 2009 and June 30, 2010 is eligible for the tournament. (The main exceptions are characters from 18+ anime, who are not eligible.) The eligible characters are placed in brackets, and the winner is determined by popular vote; the winner of each bracket progresses to the next until a final vote between two characters determines the winner. This year's Anime Saimoe Tournament began on August 3 and features nearly 300 characters.
Foreigners can technically participate in the tournament; English-language instructions on how to vote have been provided by an Anime Saimoe fan site.
The final competition went as follows:
Final - October 16 (Preliminary Results)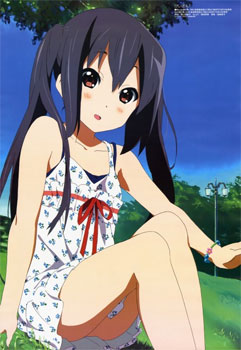 * Azusa Nakano - K-On!! - 1,516 (Winner)
* Nagi Sanzenin - Hayate the Combat Butler!! - 1,339
Nagi Sanzenin
competed
in the final round for the 2007 Saimoe tournament, but lost to When They Cry - Higurashi's Rika Furude by 22 votes.
Past reports on the 2010 tournament can be found as follows:
Image © kakifly, Houbunsha/Sakuragaoka High School Light Music Club
Update: Added larger image.
---
follow-up of
2ch Forum's Saimoe Tournament 2010, Semifinals