Interest

Lucky Star Town's New Otaku Matchmaking Event Costs 1 Coin

posted on by Jennifer Sherman
Applicants who back out must pay 5,000 yen/US$60 fee
---

Washimiya, the Kuki City neighborhood that is home to the "Lucky Star shrine," announced on Wednesday that it will host its fourth "Ota-Konkatsu" matchmaking event for otaku on April 29. This time, registration for the "Dai-4-kai Ota-Konkatsu One Coin-hen ~Rinne no Go Hyaku En Day~" (Otaku Matchmaking IV One Coin Edition: Rinne 500 Yen Day) event will cost only 500 yen (about US$6) that people can pay using Japan's 500-yen coins. The local chamber of commerce and industry's youth division is again producing the event.
Previous events required men to pay a 5,000-yen (about US$60) entry fee and women to pay a 2,000-yen entry fee (about US$24). Men and women will both pay 500 yen to apply this time, but people who cancel on April 24 or later must pay a 5,000-yen fee. Men and women who apply must be between 20 and 40 years old, and must either be otaku or "sympathetic of otaku." Between 20 and 50 men and women will be randomly selected from the pool of applicants to participate in the event.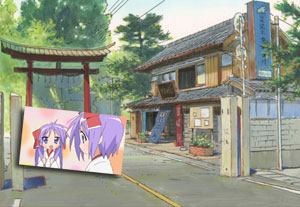 The first event, held in November 2010, picked 20 men and 20 women from a lottery of the 386 men and 115 women who applied to attend the event. Seven couples were paired in the end. The second event, held in July 2011, picked 20 men and 20 women from a lottery of the 251 men and 35 women who applied, and five couples were paired. The third event took place in December and featured a cosplay theme.
Washimiya is the home of Washinomiya Shrine, which was used as the basis for a location in Kyoto Animation's 2007 television adaptation of Kagami Yoshimizu's manga Lucky Star. It has since become a popular destination for anime fans, who make "pilgrimages" to the shrine. The concept for the dating event originated in 2009, when many visiting fans who filled out surveys said that they were interested in marriage.
Source: Mainichi Shimbun's Mantan Web
---