Interest

Miss Monochrome's Wishes Come True with a Nendoroid

posted on

2013-10-23

19:00 EDT by Eric Stimson
---
Good Smile Company is giving Miss Monochrome, the title character of the Miss Monochrome TV anime, her own Nendoroid. It's either really meta, or just good marketing.
In the latest episode of the currently airing series, she discovers Nendoroids for the first time, and decides that she wants to be one too. After an entire episode of trying to craft her own, she decides to just dress up as a Nendoroid, whose popularity is zeroed in on by "businessmen" (depicted by the ever-marketable Wooser).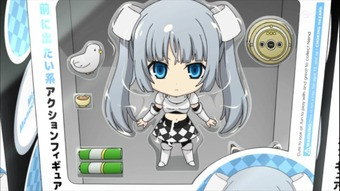 Naturally, a real Miss Monochrome Nendoroid was announced, although no further details are available at the moment.

In other Miss Monochrome news, a cosplay fanart contest was held on Pixiv from September 20 to 30. The parameters were fairly open-ended, but "swimsuits, cat ears, race queens, nurses, teachers and shrine maidens" were suggested. Winners receive a signed poster and get their art shown on the next episode of Miss Monochrome on October 29. You can see the entries here.
[Source: Starchild; Images via Nijigami Sokuhou Nijisoku Ford Gakuen]
---