News

Final Amanchu! Blu-ray to Include Unaired Episode

posted on by Karen Ressler
Volume will ship on March 29
---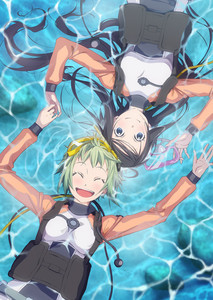 The official website for the television anime adaptation of Kozue Amano's Amanchu! announced on Wednesday that the anime's seventh Blu-ray Disc volume will include an unaired episode. The website did not share details on the episode's content.
The seventh and final volume will ship on March 29, 2017. The first volume will ship in Japan on September 28 with the television anime's first two episodes.
Amanchu! premiered on July 8 on AT-X, and also airs on Tokyo MX and other channels. Crunchyroll is streaming the series in some territories as it airs in Japan.
Crunchyroll describes the anime:
It is spring, the season of great changes. Hikari Kohinata is an overwhelmingly cheerful and outgoing 15-year-old girl who has spent all her life in a small and beautiful seaside town on the Izu peninsula. On the first day of high school, she meets Futaba Oki, a slightly introverted girl who has just moved from Tokyo. Before she knows it, Futaba gets dragged along into Hikari's passion for scuba diving. And from there, Futaba gradually starts to come out of her shell, and learns how to take challenges and dive into the ocean of life.
Junichi Sato (Sailor Moon, Princess Tutu, Aria the Animation) is serving as chief director for the anime adaptation of Kozue Amano's original manga. Kenichi Kasai (Honey and Clover, Nodame Cantabile, Bakuman.) is directing the series at J.C. Staff, with scripts by Deko Akao (Yes! Precure 5, Arakawa Under the Bridge, Snow White With the Red Hair). Yoko Ito (Love Stage!!) is designing the characters.
---