News

Pokémon: Let's Go, Pikachu!/Eevee! Games' Video Shows Secret Techniques

posted on by Rafael Antonio Pineda
Nintendo
to also offer new Switch packages with games pre-installed, themed Joy-Con controllers
---
Nintendo revealed a new highlight video for its Pokémon: Let's Go, Pikachu! and Pokémon: Let's Go, Eevee! Nintendo Switch games during its Nintendo Direct presentation on Thursday. The video shows the Secret Techniques and attacks from the players' partner Pokémon.
Nintendo also revealed that it will offer two Nintendo Switch packages with either game pre-installed, and bundled with themed Joy-Con controllers.
The games are set in the Kanto region of the first Pokémon games, and are specifically based on 1998's Pokémon Yellow: Special Pikachu Edition. Similar to the main role-playing game series, certain Pokémon are unique to each version of the Nintendo Switch game.
The games support both single player and cooperative play, and can be controlled with only one Joy-Con controller. Players use the controller to throw Poké Balls and capture Pokémon with similar mechanics to Niantic's Pokémon GO smartphone game. Players can interact with Pikachu and Eevee to improve their bonds for beneficial effects. Players can also have any captured Pokémon walk with them in the game. Players can ride some of these companion Pokémon, and the Pokémon can also find hidden items.
In Support Play, a Support Trainer can help the main player catch Pokémon or battle against other Trainers. Players can work together through local communication that connects two Nintendo Switch consoles or through internet communication. Internet communication requires players to enroll in the Nintendo Switch Online service, which will launch on September 18.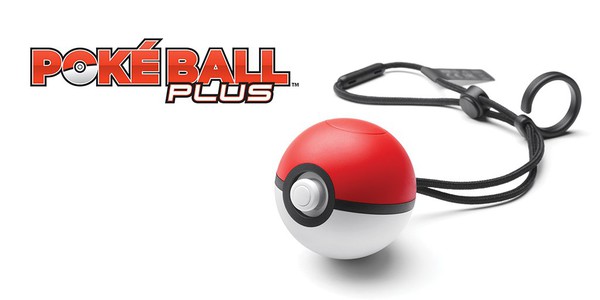 Nintendo will also offer a Poké Ball Plus controller that functions as a Joy-Con, but can also "hold" one Pokémon that can then be transferred to a user's Pokémon GO smartphone game account. The new controller can function with the Pokémon GO game similarly to the Pokémon GO Plus device. Players can also transfer Pokémon from Pokémon GO to Pokémon: Let's Go, Pikachu! and Pokémon: Let's Go, Eevee!.
The games are slated to ship on November 16.
Source: Nintendo Direct
---