Anime Spotlight - Golden Time
by Justin Sevakis,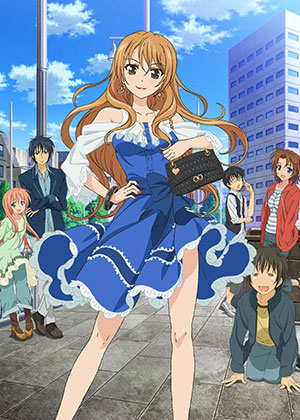 October, 2013

Key Staff
Director: Chiaki Kon

    (When They Cry - Higurashi, Junjo Romantica)

Series Composition: Fumihiko Shimo

    (Air, Infinite Stratos, Clannad)

Original Creator: Yuyuko Takemiya

    (Toradora!)

Animation Production

J.C. Staff







Introduction
This moment is a premonition of love.
"The life scenario I've drawn up is perfect!"
After meeting Kouko Kaga, the young lady making that boast, what's going to happen to Banri Tada's uncontrollable youth?! Yuyuko Takemiya, author of the great hit Toradora, brings a new romantic comedy that's finally getting animated!
Story
Banri Tada wanders the unfamiliar streets of Tokyo hoping to finally make his long awaited college debut. On the way college he meets Mitsuo Yanagisawa, a man in similar circumstances who's heading to the campus too, but right before the gates they find a parked limousine, and the beautiful girl, Kouko Kaga, steps out with a bouquet of roses in her arms. Then she starts walking towards Banri and Mitsuo…
Characters
Kouko Kaga
VA: Yui Horie

Banri Tada
VA: Makoto Furukawa

Nana Hayashida
VA: Ai Kayano

Mitsuo Yanagisawa
VA: Kaito Ishikawa

Chinami Oka
VA: Ibuki Kido

Nijigen-kun
VA: Takahiro Hikami

NANA Sempai
VA: Satomi Sato
Cast
Kouko Kaga

Yui Horie

Banri Tada

Makoto Furukawa

Nana Hayashida

Ai Kayano

Mitsuo Yanagisawa

Kaito Ishikawa

Chinami Oka

Ibuki Kido

Nijigen-kun

Takahiro Hikami

NANA Sempai

Satomi Sato
Staff
Original Creator

Yuyuko Takemiya
(Dengeki bunko/
ASCII Media Works Publishing)

Original Character Design

Eeji Komatsu

Director

Chiaki Kon

Series Composition

Fumihiko Shimo

Character Design

Shinya Hasegawa

Sound Director

Jin Aketagawa

Sound Production

Magic Capsule

Production

GENCO

Animation Production

J.C. Staff

Production

Omaken




©YUYUKO TAKEMIYA/ASCII MEDIA WORKS/OMAKEN
---
discuss this in the forum (198 posts)
|
back to Anime Spotlight Fall 2013 - The List
Anime Spotlight homepage / archives