×
remind me tomorrow
remind me next week
never remind me
Subscribe to the ANN Newsletter • Wake up every Sunday to a curated list of ANN's most interesting posts of the week.
read more
News

Speed Racer's Mach 5 Car "Tested" in Road & Track Mag

posted on by Christopher Macdonald
US$5-million movie mockup: 1,700 hp, 305 mph, 0-60 in 0.6 seconds
---

Not-So-Daily Link of the Day: The current issue of Road & Track magazine (April 2008) features a fictional "April Fools' road test" of the Racer Motors Mach 5 car mockup that was built for the upcoming Warner Brothers Speed Racer movie. The May 9 movie adapts the classic Mach Go Go Go (Speed Racer) car-racing anime series for live-action. According to the article, the US$5-million vehicle has a 1,700-horsepower turbo-charged V-12 engine that is capable of propelling the Mach 5 all the way to 305 miles per hour (491 kilometers per hour). The article also says that the Mach 5, with "tire crampons" engaged, is capable of 6-g turns and quarter-mile (0.40-kilometer) runs in 2.6 seconds.
Road & Track's performance figures, which include a 0.6-second 0–60-mph (0–97-kmph) sprint, were provided in a digital simulation provided by Polyphony Digital, the Sony subsidiary behind the Gran Turismo series of PlayStation car-racing games. The simulation assumed a car with the fictional mechanical capabilities of the Mach 5, including the previously mentioned 1,700-hp V-12, tire crampons and a 2,455-lb (1,114-kg) curb weight.
The full article is available online on Road & Track's website and features photos of the mockup vehicle that is currently being displayed at various auto shows. The complete fictional data sheet is also available.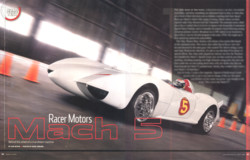 ---