News

Ghibli's Earthsea Opens with US$20,100 in 5 Theaters

posted on by Egan Loo
Scott Pilgrim vs. the World also opens in U.S. at #5 with estimated US$10.5 million
---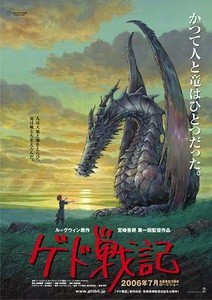 The Box Office Mojo website reports that Goro Miyazaki and Studio Ghibli's Tales from Earthsea (Gedo Senki) anime film earned an estimated US$20,100 during its opening weekend in the United States. With five theaters, the film release had an estimated per-screen average of US$4,020. By comparison on their first full weekend of release, Princess Mononoke (1999) earned US$144,446 in eight theaters, Spirited Away (2002) earned US$449,839 in 26 theaters, Howl's Moving Castle (2005) earned US$427,987 in 36 theaters, and Ponyo (2009) earned US3,585,852 in 927 theaters. These previous five films were directed by Hayao Miyazaki, Ghibli co-founder and Goro Miyazaki's father.
Tales from Earthsea adapts Ursula K. Le Guin's Earthsea fantasy novels with the English dubbing cast of Blaire Restaneo, Matt Levin, Timothy Dalton, Cheech Marin, Mariska Hargitay, and Willem Dafoe. The film opened in Japan and other countries in 2006, and earned US$63,786,538 in Japan and US$68,625,104 in countries outside the United States.
Scott Pilgrim vs. the World, Edgar Wright's adaptation of Bryan Lee O'Malley's Scott Pilgrim graphic novel series, also opened in the United States on Friday. It landed at #5 with an estimated US$10,525,000 in 2,818 theaters. The film (and the original graphic novels) included numerous references to Japanese videogames, manga, and anime such as Astro Boy (Mighty Atom) and Akira.
Image © 2006 Nibariki - GNDHDDT
---
This article has a follow-up:
Ghibli's Earthsea Ends U.S. Run with US$48,461
(2010-09-07 18:17)