News

Kuroko's Basketball Allowed at Tokyo Big Sight Event

posted on by Sarah Nelkin
---
The Tokyo Big Sight convention center posted a letter last Friday to discuss the recent threats that led to cancellations of events linked to the Kuroko's Basketball manga. Since October, more than 30 locations linked to Kuroko's Basketball creator Tadatoshi Fujimaki have received threat letters with powdered and liquid substances.
In the letter, the Big Sight staff first explained the barring of Kuroko's Basketball items and circles from Comic Market (Comiket) 83, the world's largest dōjinshi event which ran last month. They also wrote about their efforts to keep visitors safe, including the increased security and bag checks for visitors. (ANN's reporter was not subjected to a bag check on the second day of the event.)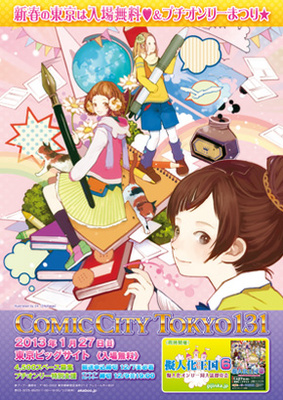 The letter then explained how the situation changed for Comic City Tokyo 131, a smaller dōjinshi event (pictured right) which is scheduled for this Sunday. The Big Sight staff also asked the Comic City organizers to reconsider allowing Kuroko's Basketball circles.
However, the Comic City organizers responded that they will continue the event exactly as planned, and will do their best to strengthen security. The Big Sight staff is allowing the event to continue, although the staff made the event's organizers promise to "take complete responsibility and implement the ultimate countermeasures for the safety of the attendees."
The Big Sight's letter then discussed Double Clutch, a dōjinshi event that was scheduled for February 10. Unlike Comic Market and Comic City, Double Clutch was dedicated only to Kuroko's Basketball. The Double Clutch organizers had repeatedly rejected requests to cancel the event.
However, the organizers eventually complied with the Big Sight's request and cancelled. According to the Big Sight staff, the event was cancelled because it was a Kuroko's Basketball-only event, and because the organizers were thinking of the safety of their customers.
Background
Several Kuroko's Basketball dōjinshi events throughout Japan were
cancelled
in the aftermath of the threats. A source in the investigation of the threats
said
there is a high possibility that the liquid sent to Sophia University (Fujimaki's alma mater) on October 12 could emit a lethal dose of hydrogen sulfide if vaporized.
The "Shadow Trickster 3" event did proceed without incident at the Big Sight on October 20, shortly after the center received its first threat. The official "Kuroko no Basuke produced by Namco Namja Town" event in Tokyo ended 19 days early as a result of the threats, and Animate Café Tennoji in Osaka cancelled a planned Kuroko's Basketball collaboration event.
Touhou Kamuisai 7, an event dedicated to the Touhou Project movement that was scheduled for next month in Sapporo, was also cancelled. The organizers later explained that its venue had received a threat letter specifically directed at the event.
Thanks to Dan Kanemitsu for the news tip
---