News

Kuroko's Basketball Barred From Osaka Dōjinshi Event

posted on by Egan Loo
Sunday's Comic City event to check bags, station security in restrooms, block lockers
---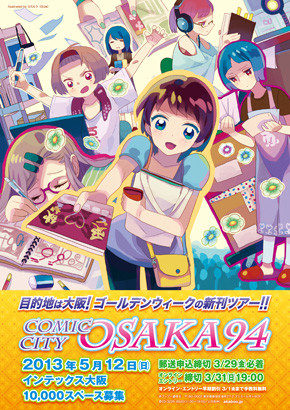 The organizers of the Comic City Osaka 94 dōjinshi event announced on Wednesday that it is barring Kuroko's Basketball circles from participating, after consulting with the Intex Osaka exhibition center and the local Suminoe Ward police. The organizers acknowledged that they are making this sudden announcement just four days before the event begins on Sunday. Circles offering dōjinshi inspired by other franchises are not affected.
In addition, the following special steps are being taken:
The space originally reserved for Kuroko's Basketball circles is being reassigned
All circles and visitors will undergo bag checks
Uniformed security will be making special patrols
Uniformed security will be stationed within the center
Security will be stationed in all restrooms
Coin lockers will be barred from use
Unknown bags, plastic PET bottles, and other items will be checked and collected if necessary
Other steps are being taken
The organizers apologized to the Kuroko's Basketball circles and emphasized that similar events in Tokyo and Fukuoka exhibition centers are currently not affected.
Background
Since October, locations linked to Kuroko's Basketball creator
Tadatoshi Fujimaki
have
received
threat letters with powdered and liquid substances. A source in the investigation of the threats
said
there is a high possibility that the liquid sent to Sophia University (Fujimaki's alma mater) on October 12 could emit a lethal dose of hydrogen sulfide if vaporized.
Several Kuroko's Basketball dōjinshi events throughout Japan have been cancelled in the aftermath of the threats. The "Shadow Trickster 3" event did proceed without incident at the Big Sight on October 20, shortly after the center received its first threat. However, the official "Kuroko no Basuke produced by Namco Namja Town" event in Tokyo ended 19 days early as a result of the threats, and Animate Café Tennoji in Osaka cancelled a planned Kuroko's Basketball collaboration event. Comic Market (Comiket), the world's largest dōjinshi event, barred Kuroko's Basketball items and circles in December.
In February, the organizers of the Comic City dōjinshi events barred circles from selling Kuroko's Basketball items at March 17's Haru Comic City 18 event, after they received a request to do so from the management of the Tokyo Big Sight event complex. The same organizers had barred Kuroko's Basketball from the Comic City Osaka 92 event on January 6, and then cancelled February 10's Double Clutch event outright. However, they held the Comic City Tokyo 131 event at Tokyo Big Sight and insisted on allowing Kuroko's Basketball circles. Comic City Tokyo 131 proceeded without incident on January 27.
The Tokyo Big Sight convention center noted last month that it might allow Kuroko's Basketball-related events starting in May "if there is no change in the situation" and if event organizers "have in-depth discussions with the authorities to ensure the safety of all attendees."
Two "Shadow Tricksters" events dedicated to Kuroko's Basketball were cancelled in April after their event halls received threats. The Sankei Shimbun newspaper reported that the threat letters had stopped at the beginning of 2013, but a new string of letters were sent in April. The newspaper also reported that more than 110 places have now received threat letters since the threats began last October.
[Via Yaraon!]
---