Full Moon O Sagashite (manga)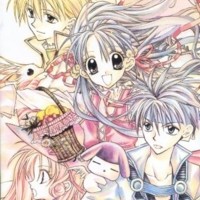 Alternative title:
Buscando la Luna Llena (Spanish)
Full Moon
Full Moon - Canto d'Amore (Italian)
Furumyu
Searching for the Full Moon
尋找滿月 (Chinese (Taiwan))
満月をさがして (Japanese)
만월을 찾아서 (Korean)
Objectionable content:
Mild
Plot Summary:
A bittersweet tale of puppy love, tragedy, and aspiration of pop star fame. A spark of hope ignites to a blaze in twelve-year-old Mitsuki Koyama when a comical pair of magical beings appear to prove to her that dreams really do come true. Young Mitsuki loves singing and dreams of becoming a pop star. Unfortunately, a Malignant tumor in her throat prevents her from pursuing her passion. However, her life turns around when two surprisingly fun-loving harbingers of death appear to grant Mitsuki a temporary reprieve from her illness and give her singing career a magical push start.
12 year old Mitsuki wants to be a singer because of a promise she made with her childhood love, however a form of throat cancer is holding her back. One day she find two strange characters in her room, Takuto and Meroko, who are gods of death. She finds out she only has a certain amount of time to live, and wants nothing more in that time then to become a singer. The two shinigami show sympathy for her, and decide to help her reach her goal by transforming her into a 16 year old girl.
User Ratings:
427 ratings have been given [details]
Vintage:
2002-01 to 2004-06 (Ribon)
2004-02 to 2005-06 (German Volumes 1-7)
2005-07-05 to 2006-10-03 (North America)
2006-10-26 (Spain)
2007-12-10 (Mexico)
You can contribute information to this page, but first you must login or register
This encyclopedia is collaboratively edited by the users of this site
# A B C D E F G H I J K L M N O P Q R S T U V W X Y Z
Manga anthology