Interest

LAWSON's Karaage-kun Snacks Get Eevee Makeover

posted on by Lynzee Loveridge
Since the announcement of the Pokémon: Let's Go, Pikachu! and Pokémon: Let's Go, Eevee! Nintendo Switch games, the furry and brown Pokémon has slowly infiltrated various locations and events. Eevee appeared in droves at the annual Pikachu invasion in Yokohama, merchandiser MOVIC introduced unique trainer characters for each evolution, and artists reinterpreted Eevee in various art styles.
What none of these events have shown is an Eevee you can eat. For that, you'll need to head to LAWSON convenience stores.

The shops introduced mild curry flavor Karaage-kun fried chicken snacks in Eevee packaging on Tuesday. The flavor includes eight spices to represent all of Eevee's current evolutionary forms but is still mild enough for kids to eat. The chicken nuggets come in one of four package designs for 216 yen each (US$2): Jolteon, Flareon, Vaporeon, and a green design that features all the evolutions.

Eevee met Karaage-kun, LAWSON's fried chicken snack's mascot, on Monday. The two mascots had a pedometer showdown to see who was the most energetic. Eevee came out the victor but was a good sport about it.
LAWSON is also holding a retweet campaign and offering Eevee-centric prizes. To win, Twitter users need to follow both the @Akiko_LAWSON Twitter account and @Project_Eevee account. Twitter users then need to retweet the corresponding campaign tweet to be entered to win the prize. Nine winners will receive the Pokémon: Let's Go, Eevee! Monster Ball Plus Set a life-size Pokémon Center plush of one of Eevee's nine forms, and a Karaage-kun pre-paid card.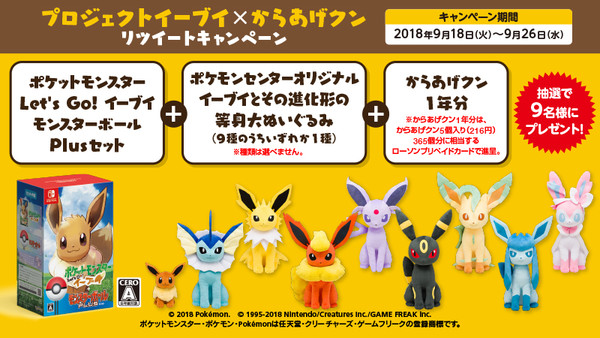 Karaage-kun is well-known in Japan and has previously collaborated with other anime and video game stars, including the Mr. Osomatsu sextuplets, Sanrio-ified Fate/Grand Order servants, and Re:Zero's Rem.
The Eevee fried chicken is available while supplies last. The corresponding retweet campaign will run until September 26.
---