News

ToHeart2 adplus, Switch, Rideback, Tayutama Videos Posted

posted on by Egan Loo
---

The Animate.tv video website has begun distributing a 32-second advance promotional video, in narrowband and broadband versions, for the first volume of the ToHeart2 adplus anime sequel. The ToHeart2 adplus and earlier ToHeart2ad anime spinoffs are based on the ToHeart2 television and video anime series, which in turn are based on the ToHeart2 PlayStation 2 visual novel software by AQUAPLUS. The first volume of ToHeart2 adplus ships in Japan on April 24. North America's Right Stuf released the To Heart television anime series, which is based on the original visual novel of the same name.

Animate.tv has also begun streaming a 31-second promotional video, in narrowband and broadband versions, for the second and final volume of the switch anime series on Thursday. The anime studio ACTAS, Inc. is adapting the "stylish crime action" manga by naked ape — the manga writer/artist duo of Otoh Saki and Tomomi Nakamura. The second volume ships in Japan on February 25. The original manga ended in Square Enix's Monthly G Fantasy magazine in October. Viz Media will ship the sixth volume of the manga in North America next month.

The official website for Madhouse's anime adaptation of Tetsuro Kasahara's Rideback motorcycle robot manga has begun streaming the 160-second promotional video from this year's Tokyo Anime Fair. (After the second commercial ends in the linked website, select the "Movie" button at the bottom, and then select the "TAF2008-PV" button.) Rideback tells the story of a college student and her "iron horse" robot motorcycle in 2020, a tumultuous time of anti-government student protests. The 12-episode anime will premiere in Japan on January 11.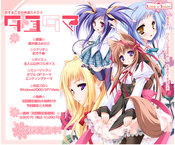 Google's YouTube video-sharing website has begun streaming a 106-second promotional video for Media Factory's television anime adaptation of Lump of Sugar's Tayutama adult personal computer game on Friday. The video contains many spoilers for the game's story endings. The Media Factory and Russel production companies will screen footage from the anime at next week's Comic Market 75 convention in Tokyo. They will also distribute shopping bags that commemorate the anime and a new game sequel, next spring's Tayutama -It's happy days-. Like the game sequel, the anime is scheduled to premiere next spring.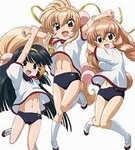 The BIGLOBE video-streaming website will begin distributing the opening and ending animation footage for the Kodomo no Jikan Second Term video series on January 1 at midnight, Japan Time. (The videos will require the latest versions of Microsoft Internet Explorer, Windows Media Player, and Adobe Flash Player software.) The first DVD volume will ship with the sixth volume of Kaworu Watashiya's original manga in a limited-edition bundle in Japan on January 21.
Sources: Saishin Anime Jōhō, Moon Phase
Images © 2009 AQUAPLUS/TH2Vad Works
© naked ape/Square Enix, Project Switch
© Tetsuro Kasahara, Shogakukan/Rideback Production Committee
© 2007 Lump of Sugar
© Kaworu Watashiya/Kodomo no Jikan Production Committee
Update: Title's spelling corrected. Thanks, Cloud668.
---