News

Samurai Girls, Vanguard, Iron Man Anime Promos Streamed

posted on by Egan Loo
---

The official website for the Hyakka Ryōran Samurai Girls television anime series began
streaming
a new promotional video last Saturday. (In the
linked
page, select the "動画" item from the lefthand menu.) The anime
adapts
Akira Suzuki's light novels which are set in the early 21st century — except in this alternate world, the Tokugawa shogunate never lost power and Japan maintained its enforced seclusion from the rest of the world. The 25th shogun assumed the mantle of Japan's leadership 20 years ago, and the student council enforces the suppression of rebellious elements at a giant academy for children of military families at the foot of Mt. Fuji. The girls Yukimura Sanada and Matabei Gotō battle the mostly female members of the ruling student council faction such as Sen Tokugawa ("Sen-hime"), Hanzō Hattori, and others. A 16-year-old male student named Muneakira Yagyū and a female Jūbei Yagyū are caught in the middle. The anime will premiere this October, and Hobby Japan
announced
at Anime Expo that it will bring the light novels to North America.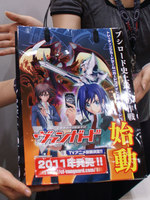 The official website of Bushiroad's Cardfight!! Vanguard trading card game began
streaming
a promotional video with short animated clips this month. The game itself will go on sale next year. The game is a collaboration between Yu-Gi-Oh! R manga creator Akira Ito, the original Duel Masters technical advisor Satoshi Nakamura, and Bushiroad President Takaaki Kidani. A television anime and a manga has been
green-lit
for the franchise.
The American television network G4 began
streaming
a promotional video for the Iron Man anime series last Saturday. Like the other Marvel Anime projects, the Iron Man anime
adapts
the American comic book series of the same name into 12 episodes from Madhouse studio. G4 wil
launch
the series in 2011 after the October
premiere
in Japan.
The North American anime distributor Funimation began
streamimg
promotional videos for both Sengoku Basara
and
Corpse Princess earlier this week. Funimation also announced the English dubbing cast for Sengoku Basara:
Date Masamune: Robert McCollum
Oda Nobunaga: John Swasey
Sanada Yukimura: Johnny Yong Bosch
Ranmaru Mori: Maxey Whitehead
Nagamasa Asai: Christopher Bevins
Oichi: Laura Bailey
Kasuga: Stephanie Sheh
Uesugi Kenshin: Greg Ayres
Akechi Mitsuhide: Vic Mignogna
Sarutobi Sasuke: Michael Sinterniklaas
Takeda Shingen: Christopher Ayres
Images © 2010 Akira Suzuki, Niθ, Hobby Japan/Hyakka Ryōran Partners
© Akira Ito © Yuhodo © bushiroad
© 2010 Marvel Anime Partners
---