News

AnoHana, Live-Action Nintama's Promo Videos Streamed

posted on by Egan Loo
---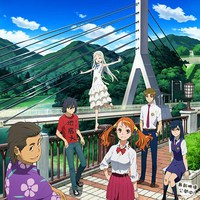 The official website for the Ano Hi Mita Hana no Namae o Boku-tachi wa Mada Shiranai (Anohana) television anime began streaming its third 15-second television commercial on Friday. The story follows several childhood friends who try to reconnect in high school after drifting apart.
Tatsuyuki Nagai (Toradora!, Toaru Kagaku no Railgun) is directing off the scripts by Mari Okada (Toradora!, Kuroshitsuji/Black Butler). Masayoshi Tanaka (Toradora!, Katekyo Hitman Reborn!) is designing the characters, and the singer-songwriter REMEDIOS (Reimy) is composing the music. The anime will premiere in April in Fuji TV's late-night Noitamina timeslot.

The Yahoo! Japan website began streaming a new 70-second teaser trailer for Takashi Miike's live-action film adaptation of the long-running Nintama Rantaro ninja comedy anime series on Thursday. The film will open in Japan on July 23.
In Nintama Rantaro, Seishirō Katō plays the title role of a ninja apprentice at an elite ninjutsu academy in historical Japan. As first-graders, Rantarō and his ninja-in-training friends are called "Nintama" — a contraction of the words "ninja" and "tamago" ("egg"). The television anime adaptation based on Soubee Amako's Rakudai Ninja Rantarō ninja gag manga, which debuted in 1993. There was already an animated film made in 1996, and a new anime film will open in March, before the live-action film's summer opening.
Source: Saishin Anime Jōhō, Nippon Cinema
Image © Anohana Project
© 2011 Live-Action Nintama Rantarō Production Committee
---