News

Kaze Announces Mawaru Penguindrum, Plus Code Geass Blu-ray

posted on

2012-08-10

15:58 EDT by Andrew Osmond
Announcements at
Ame-con!!
convention, reported on
UK Anime Network
site.
---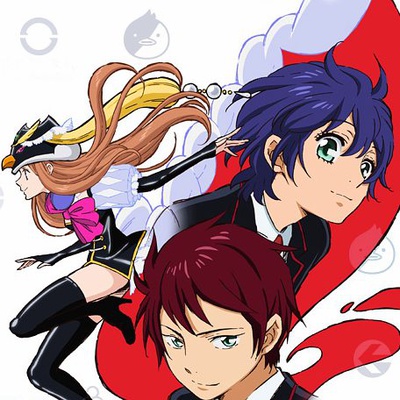 The UK Anime Network website reports the following announcements from the Anime Industry panel at the Amecon convention. The announcements were made by Andrew Partridge of Kaze UK.
Firstly, Kaze UK (whose titles are released through Manga Entertainment) has licensed the series Mawaru Penguindrum (pictured) for the U.K. Directed by Kunihiko Ikuhara (Revolutionary Girl Utena, several Sailor Moon television series), the series revolves around three siblings — Kanba (Subaru Kimura), Shōma (Ryohei Kimura), and Himari Takakura (Miho Arakawa). Otome Yōkai Zakuro manga creator Lily Hoshino handled the original character designs.
Secondly, Kaze has acquired both TV seasons of Code Geass, previously released in the U.K. by Beez Entertainment, and will release it both on DVD and Blu-ray.
Partridge also confirmed that the game adaptation Persona 4: The Animation will be released in DVD/Blu-ray combo packs.
---
discuss this in the forum (3 posts)
|
bookmark/share with:
RightStuf - Anime, Manga and More
The Promised Neverland runs through a dazzling series of twists and betrayals in its pulse-pounding third volume. Nick Creamer has the details.
― The Promised Neverland hits the ground running in its third volume, opening with new allies Gilda and Don staging a daring and likely ill-advised break-in of Isabella's secret room. Their extremely rash choice leads to both discord within the main group and...
Planet With is the first original anime project written by beloved manga author Satoshi Mizukami, and it's been absurd and exciting from the start to its shocking halfway point cliffhanger. Nick and Jacob try to make sense of this mecha action rollercoaster.
― Planet With is the first original anime project written by beloved manga author Satoshi Mizukami, and it's been absurd and exciting from the s...
World-famous voice actors Bryce Papenbrook and Yuki Kaji get together for a fun chat about one of the roles they share: The Seven Deadly Sins' fearless hero, Meliodas!
― To the excitement of fans, popular series, The Seven Deadly Sins, returns with an upcoming movie on August 18, 2018. As one of top watched anime on Netflix, an upcoming film in August 2018, and a lineup of the biggest names in the in...
This 3DCG anime comedy dripping with 90s arcade lore from classics like Final Fight and Street Fighter II doesn't hit Netflix until December, but we've got all the details from the premiere at Otakon - with comments from the show's producers!
― The Hi Score Girl anime had a long road to production. Originally announced in 2013, the project was sidelined after SNK Playmore filed a criminal complaint a...
The heroes of Is it Wrong to Pick Up Girls in a Dungeon? venture outside Orario for once in this adventurous volume. Theron Martin has the details.
― For all of the great work that writer Fujino Omori has done with the setting of DanMachi, details on any locations beyond Orario and its immediate environs have been woefully limited. Although a couple of short stories in the main series have transpired...
Feast your eyes on another batch of incredible costumes from this weekend's Otakon 2018 in Washington, DC!
― IMG 1.jpg IMG 2.jpg IMG 3.jpg IMG 4.jpg IMG 5.jpg IMG 6.jpg IMG 7.jpg IMG 8.jpg IMG 9.jpg IMG 10.jpg IMG 11.jpg IMG 12.jpg IMG 13.jpg IMG 14.jpg IMG 15.jpg IMG 16.jpg IMG 17.jpg IMG 18.jpg IMG 19.jpg IMG 20.jpg IMG 21.jpg IMG 22.jpg IMG 23.jpg IMG 24.jpg IMG 25.jpg IMG 26.jpg
We've got not one but TWO Dekus! Steel yourself for this super fun chitchat with both the Japanese and English voices of My Hero Academia's Izuku "Deku" Midoriya, the charming and energetic Justin Briner and Daiki Yamashita!
― You probably don't need to be introduced to the phenomenon known as My Hero Academia – the blockbuster superhero manga is not only one of the most popular anime to come along i...
Back in the early 80s, the godfather of Gundam tried his hand at a fantasy-flavored mecha war epic - the result was Aura Battler Dunbine, a dizzying 49-episode Tomino tale finally out on bluray. PLUS: all of this week's new anime bluray and DVD releases!
― I'm finally getting a permanent office (read: cubicle) at my day job, which is a welcome step up from the computer on a table in a hallway I've b...
Oftentimes in the credits of an English dub, you'll see the same name in a couple different slots - maybe director, producer, and also the lead actor. Is the crew invading the booth? Justin explains.
― Tess asked: Looking at the dub credits on various anime, I noticed that a voice actor (who is often a lead) may also be credited as a producer. Because they're a producer on a series' (or an episode's...
With nods to the Eagles' classic "Hotel California" and a healthy dose of strangeness, The Voynich Hotel promises a stay you won't soon forget. Rebecca Silverman has the details.
― Seven Seas' use of a paraphrased line from the Eagles' 1977 song "Hotel California" on the back copy of The Voynich Hotel's first volume really does prepare you for what's going on inside. The song's last line is "You can ...
Can't get enough of battle royale tournaments where only the strongest and wittiest survive a gruesome demise? Here are seven more survival game anime to scratch that itch!
― There are few quicker ways to ramp up tension between a group of strangers than throwing them headfirst into a battle of kill or be killed. There are tons of manga centered on the topic, for example Yen Press' release of Though...
Here's the first of our galleries of fun cosplay photos from this weekend's Otakon 2018 in Washington DC.
― IMG 12.jpg IMG 1.jpg IMG 2.jpg IMG 3.jpg IMG 4.jpg IMG 5.jpg IMG 6.jpg IMG 7.jpg IMG 8.jpg IMG 9.jpg IMG 10.jpg IMG 11.jpg IMG 25.jpg IMG 26.jpg IMG 27.jpg IMG 28.jpg IMG 29.jpg IMG 30.jpg IMG 31.jpg IMG 32.jpg IMG 33.jpg IMG 34.jpg IMG 35.jpg IMG 36.jpg IMG 24.jpg IMG 13.jpg IMG 14.jpg IMG 15...