News

Guillermo del Toro to Hold 'Master Class' on Miyazaki in Toronto

posted on

2013-11-15

18:00 EST
Pacific Rim director to host discussion as part of
Studio Ghibli
retrospective
---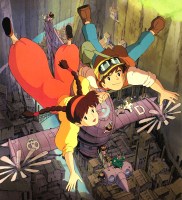 The Toronto International Film Festival (TIFF) is hosting a Studio Ghibli retrospective from December 13-January 3, and director Guillermo del Toro (Pacific Rim, Pan's Labyrinth) will kick off the event by hosting a Master Class session on December 12. The class will "consider [Hayao Miyazaki's] artistry with an extended introduction and post-screening discussion of Castle in the Sky."
The Master Class is currently sold out, but a limited number of tickets will be available 10 minutes before the screening starts.
The retrospective will also include screenings of the following films:
My Neighbor Totoro (subtitled and dubbed)
Howl's Moving Castle (subtitled and dubbed)
Nausicaa of the Valley of the Wind (subtitled and dubbed)
Only Yesterday (subtitled)
Porco Rosso (subtitled and dubbed)
Kiki's Delivery Service (subtitled and dubbed)
Grave of the Fireflies (subtitled)
Spirited Away (subtitled and dubbed)
Pom Poko (subtitled and dubbed)
The Cat Returns (subtitled and dubbed)
Whisper of the Heart (subtitled and dubbed)
Princess Mononoke (subtitled and dubbed)
From Up on poppy Hill (subtitled)
The Secret World of Arrietty (dubbed)
Ponyo (dubbed)
Ocean Waves (subtitled)
My Neighbors the Yamadas (subtitled)
Tickets go on sale for the screenings on December 4 for TIFF Members and on December 11 for the general public. The screenings will be held at the TIFF Bell Lightbox.
Del Toro is developing a live-action television adaptation of Naoki Urasawa's suspense manga Monster, and he already outlined the first season's episodes so Urasawa can review it before giving permission.
---