News

Ayame Gōriki Stars in Last Precure All Stars New Stage Film

posted on by Lynzee Loveridge
Black Butler/Gatchaman actress joins Masako Nozawa & voice actress contest winners in March film
---

Actress Ayame Goriki will star in this spring's Eiga Precure All Stars New Stage 3: Eien no Tomodachi (Precure the Movie All Stars New Stage 3: Eternal Friends) film. Her role has yet to be revealed.
Gōriki made the surprise announcement when she appeared at the finals of the Dai-1-kai Zen-Nihon Biseijo Contest (1st All-Japan Pretty Voice Actress Contest) on Sunday. The winners of the contest will also play roles in the film. Gōriki acknowledged, "I don't have much experience in voice-acting, but I'll do my best [with the contest winners]."
The film will also star Masako Nozawa, the contest's grand prize winner Miyū Tsuji (17 years old), the finalists Mii Takahashi (15) and Rie Hanafusa (17), and the contest's Multimedia Prize winner Nanami Yoshimura (21). Nozawa will play "Akamujū" (Nightmare Beast), an entity that brings nightmares to children.
Gōriki's talent agency Oscar Promotion and voice-acting agency Aoni Production sponsored the contest. The contest's preliminary rounds winnowed down the 14,434 entrants to 12 finalists, and Goriki and Nozawa were among the special judges at the finals.
Goriki previously voiced the heroine Maria in Sega's Rizumu Kaitō R Kōtei Napoleon no Isan Nintendo 3DS game. She starred in last year's Gatchaman live-action film and is starring as the new master in the Black Butler live-action film that opened earlier this month.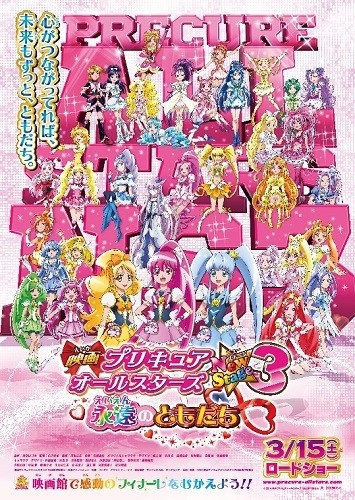 Eiga Precure All Stars New Stage 3: Eien no Tomodachi will feature at least 36 Precure girls. In the story, the world of dreams is threatened, so the Precure girls from 11 television anime unite to defend everyone's dreams. The new film will open on March 15.
Source: Mainichi Shimbun's Mantan Web
Image © 2014 Precure All Stars NS3 the Movie Production Committee
---