News

Crunchyroll Adds One Piece 'East Blue' Special, Dream Festival! R, More Catalog Titles

posted on by Rafael Antonio Pineda
---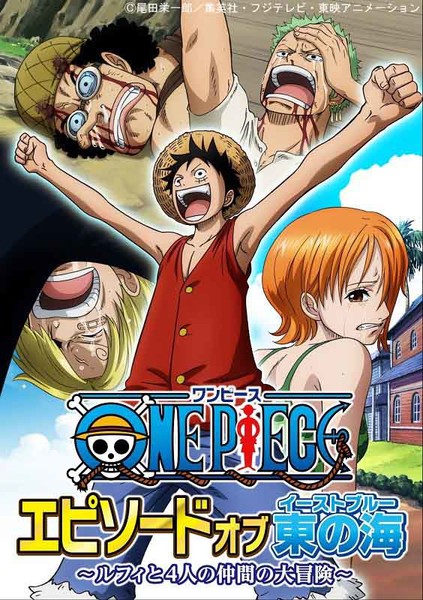 Crunchyroll announced on Thursday that it will simulcast the two-hour One Piece television special "Episode of East Blue" (One Piece Episode of East Blue: Luffy to 4-nin no Nakama no Daibōken). The special will debut on Sunday for users in the United States, Canada, South Africa, Australia, New Zealand, and Latin America. The company also added the first episode of the Dream Festival! R anime. The anime is available on Crunchyroll worldwide outside of Asia.
Crunchyroll also added four new catalog titles, including:
Soul Eater Not! (available in the United States and Canada)
Ragnarok The Animation (available in the United States and Canada)
.hack//SIGN (available in the United States and Canada)
D.Gray-man (first season episodes 1-26, Crunchyroll hasn't yet revealed availability areas)
The One Piece "Episode of East Blue" special will air on Fuji TV on Saturday from 9:00 p.m to 11:10 p.m. The special will be a completely new work, featuring reanimated scenes from the beginning of the series through when the crew enters the Grand Line. Funimation will stream the special in the United States and Canada starting on August 28.
The special is commemorating the manga's 20th anniversary, and will also feature anime versions of the original manga's chapter cover stories as part of the special's ending credits. The credits will feature what Chopper, Robin, Franky, and Brook were doing during the time the rest of the crew met in East Blue. Additionally, the anime will feature a special 20th anniversary commemoration version of the original opening theme song "We Are!".
Takashi Otsuka is directing the special, and Tomohiro Nakayama is writing the script. Masayuki Sato is the character designer and chief animation director.

Dream Festival! R premiered its first episode online on Wednesday. The anime will premiere on television on October 6.
Crunchyroll streamed the first 12-episode series as it aired last fall, and describes the series:
The Dream Festival is the stage that all idols dream of singing on, with their professional debut on the line. In order to get there, idols work their hardest every day to perfect their performance... and the key to coming out on top is the Dream Festival Cards sent by fans to their favorite idols. Receiving these Cards makes the idols who make it to the stage shine even brighter. Now head to the Dream Festival with your Dream Festival Card in hand for the idol you love most!
Dream Festival! is the net and television anime adaptation the all-male "2.5D idol project" from several Bandai Namco Group companies. When the website announced the second season, it changed its description of the anime to "five-dimensional idol support project" (2D idols + 3D cast = 5D).
---