News

Sega's World Destruction Anime Promo Movie Streamed

posted on by Egan Loo
I.G's adaptation of
Nintendo
DS RPG to premiere on Japanese TV on July 7
---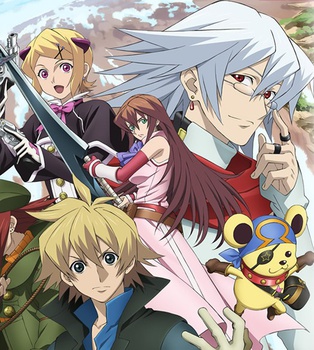 The website of the Famitsu videogame news resource has posted two promotional movies for Sega's World Destruction role-playing videogame and Production I.G's spinoff anime series. (The anime's promotional movie is the second video on Famitsu website's page.) The Nintendo DS game and television anime revolve around a boy named Kirie Irunisu who secretly possesses the power to destroy the world. While one party seeks to save the world, another party aims to eradicate the world and start anew, and it forces Kirie to join — despite being unaware of his power. The anime will premiere in Japan on July 7.
The video highlights the involvement of Kirie's voice actor Mamoru Miyano (Death Note, Gundam 00) and the main heroine Morute Āshera's voice actress Maaya Sakamoto (Escaflowne, Tsubasa). Rounding out the cast are Yu Kobayashi (Negima!, School Rumble) as the party member Ri A, Hiroyuki Yoshino (Blood+, Gundam 00) as Agan Mādoru, and Daisuke Ono (Air, Shina Dark) as Naja Gurefu. Tohru Furuya (Gundam's Amuro, Sailor Moon's Tuxedo Mask) has finally been identified as the voice of the mascot character Toppi Topuran.
The movie also lists the director Shunsuke Tada (The Prince of Tennis: The National Tournament, Tsubasa Tokyo Revelations) and the script supervisor Masahiro Yokotani (Reideen). The game's original character designs by Kunihiko Tanaka (Xenosaga Episode I, Key the Metal Idol, Ruin Explorers manga) will be adapted for the anime by character designer Keita Matsumoto (Blood+, xxxHOLiC key animation). Yoshihiro Ike (Blood: The Last Vampire, Karas, Flag) will compose the music. Last Exile character designer and Knights manga creator Minoru Murao will be drawing the manga adaptation.
Source: Moon Phase Comments
Image © Sega/WD Production Committee
---