×
remind me tomorrow
remind me next week
never remind me
Subscribe to the ANN Newsletter • Wake up every Sunday to a curated list of ANN's most interesting posts of the week.
read more
News

My Hero Academia Released Monday

posted on by Andrew Osmond
---

On Monday May 15, Universal will release the first season of My Hero Academia as a Blu-ray/DVD combo pack. The pack will include a keyring, a character art book and a notebook. On-disc extras include an Anime Expo Panel, "Inside The Episodes" features for for each episode and interviews with cast and crew.
Viz Media published the manga, and it describes the story:
What would the world be like if 80 percent of the population manifested superpowers called "Quirks" at age four? Heroes and villains would be battling it out everywhere! Being a hero would mean learning to use your power, but where would you go to study? The Hero Academy of course! But what would you do if you were one of the 20 percent who were born Quirkless?

Middle school student Izuku Midoriya wants to be a hero more than anything, but he hasn't got an ounce of power in him. With no chance of ever getting into the prestigious U.A. High School for budding heroes, his life is looking more and more like a dead end. Then an encounter with All Might, the greatest hero of them all, gives him a chance to change his destiny...
Kenji Nagasaki (Gundam Build Fighters, Classroom Crisis, No. 6) directed the anime at the studio BONES (Blood Blockade Battlefront, Concrete Revolutio, Fullmetal Alchemist). Yousuke Kuroda (Gundam Build Fighters, Honey and Clover, Trigun) is overseeing the series' scripts. The rock band Porno Graffiti performed the opening, and the rock band Brian the Sun performed the ending as their major label debut.

MVM will release the first season of Amagami SS on Blu-ray and DVD, consisting of 24 episodes and three OVA episodes.
The Amagami SS anime adapted Enterbrain's PlayStation 2 romance simulation game Amagami. The original game centers around a second-year high school boy who find himself uneasy during Christmastime due to an experience in the past. However, this year at Christmas, he gets his last chance to ask out a graduating female senior named Haruka Morishima — or one of several other classmates. Yoshimasa Hiraike and AIC's anime aired from July to December of last year.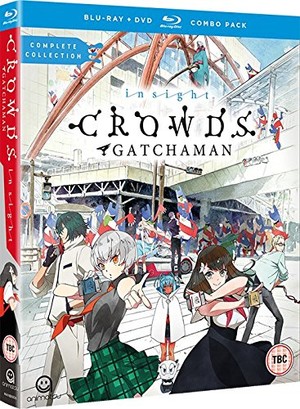 Animatsu will release Gatchaman Crowds insight (the sequel to the original Gatchaman Crowds) as a Blu-ray/DVD combo pack. Sentai Filmworks described the story:
Picking up where the hit Gatchaman Crowds left off, Gatchaman Crowds insight flips the premise of its predecessor to explore the more dangerous side of the same technology. After all, arch villain Berg Katze wasn't destroyed, so much as he was absorbed, and if globally connected networks of super beings can be used for great good, they can also be used for the purposes of evil. When the Prime Minister is attacked by a mysterious new organization, suspicions flare as to who is ultimately responsible, and who the public can actually trust.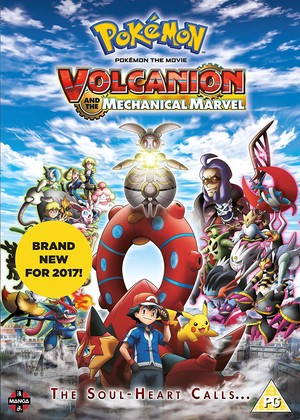 Manga Entertainment is releasing the feature film Pokémon the Movie: Volcanion and the Mechanical Marvel on Blu-ray and DVD. In the film, a mysterious force binds Ash to the Mythical Pokémon Volcanion when it falls from the sky. Volcanion can't get away, and Ash is dragged along as it continues on its mission. They arrive in a city of cogs and gears, where a corrupt minister has stolen the ultimate invention: the Artificial Pokémon Magearna, created 500 years ago. The minister plans to use Magearna's mysterious power to take control of the mechanical kingdom.

Manga Entertainment is also releasing Naruto Shippūden Box 28, carrying episodes 349 to 358.
---