RIGHT TURN ONLY!!
Set Phasers To Fun!
by Liann Cooper,
Buy It Now!


Imadoki Volume 1
Story & Art by Yu Watase
Released by Viz
$9.99 US

Yu Watase's name is synonymous with shoujo. Her stories, with beautiful boys, beautiful girls, romantic love plots, with a bit of humor and the supernatural thrown in, are perhaps the best examples of the genre. Never mind the fact that all the boys and girls look like every other boy or girl she's ever drawn - it's the story that counts. Tanpopo Yamazaki is a gung-ho, go-get-em gal from the country who has just gotten accepted to an elite private high school in the city. While scoping out her new school she literally runs into...well, basically lands on... a Tamahome look-alike named Koki Kyugyo. He's planting a "tanpopo," or dandelion (ooh..symbolism), by the side of the school even though real plants are forbidden on school grounds. Turns out he's the son of the family who founded not only the school, but also the entire city. The next day Koki is cold and rude to Yamazaki and to further drive the stake into her heart, he rips up the dandelion he was so carefully planting the other day. In a desperate attempt to befriend Koki, Yamazaki starts up a horticulture club with the thought that flowers will help their friendship bloom. But, the girls of the school don't like the idea that Yamazaki is getting so close to Koki and do everything they can to make her life a living hell. What makes Imadoki stand apart from the rest of her series is Yamazaki. She's so boisterous, positive and not prone to crying that she can't be compared to any of Watase's other heroines. There also aren't any supernatural elements so far. Watase's trademark eye candy art style graces every page so even if you're not a fan of the cheesy storyline, you'll at least love looking at the pages. It sounds kind of goofy - "girl starts up planting club to be with boy" – but, so far I love what I've read and I can't wait to see what pops up in the next volume.




Louie the Rune Soldier Volume 2
Story by Ryou Mizuno & Art by Jun Sasameyuki
Released by ADV Manga
$9.99 US

Funny manga is hard to sell to me. I'm not prone to laughing at silly things, and laughing at books almost never happens. However, Louie the Rune Soldier is delightfully funny and I found myself chuckling at it a couple of times. If Gourry had a brain, I'd imagine him to be a lot like Louie. Louie the sorcerer has just made himself a self-proclaimed adventurer. Together with his gaggle of gorgeous babes, Louie embarks on action-packed journeys. Volume two has the gang dealing with a backstabbing elf, a dunce knight named Conrad, and the final adventure pits Louie against his own comrade, Genie. I absolutely adore the characters in this book. Sure they're exaggerated and predictable, but they're not so over-the-top annoying that you'll want to rip the pages out in aggravation. Artwork is clean and crisp and the action scenes/sound effects don't come across as cluttered. The strong point to this novel is its flow – the stories may be episodic, but they're entertaining enough that you don't see them as "Louie and crew complete an adventure: END: Begin new adventure." So far, there doesn't seem to be much to the story except for the group going around looking valiant, but are other volumes, and I expect a story to come crawling out soon enough.


Borrow It




Red River Volume 1
Story & Art by Chie Shinohara
Released by Viz
$9.95 US

Yuri is your normal every day teenager. She's flying high after her first "lip-lock" with her boyfriend and has just passed her high school entrance exams. Things start to get a little strange when she begins to notice that water "reacts" to her presence. However, things go from "a little strange" to completely surreal after a pair of arms sprout from a puddle and pulls her into the 14th century. Set to become a human sacrifice in a crazy queen's plot, Yuri is rescued by the handsome Kail – who acts like he wants to be more than just her knight in shining armor! "Daring sword fights, magic spells, a prince in disguise!" Yessiree, we have ourselves one time-traveling shoujo manga with all that and more. No beasts, though... unless you want to call the queen one. And that may be a little harsh, even for her. The beginning of the manga is a bit rushed, as Yuri is almost immediately sucked into an alternate world. Events continue to domino up to the very end where we're left in a very "Miaka" situation – Yuri pleads to save the life of a person who not 20 pages earlier tried to murder her. So far, the characters' personalities are the strongest aspect of the book (character design could use some work); they make me want to get to know them better. Hopefully things will slow down a bit in the following volumes so that they'll have a chance to be fleshed-out more. We're off to a good start- nice art, lively characters, and an interesting – even if a bit cliché – storyline. Keep your eye on this one, though no dancing candlesticks, talking clocks, or Suzaku warriors appear.




Eerie Queerie Volume 3
Story & Art by Shuri Shiozu
Released by Tokyopop
$9.99 US

Who doesn't love a good, wholesome shounen-ai series? Volume two of Eerie Queerie was a bit of a disappointment, but the series has picked itself back up with volume three. It's also no longer just a fight to see who can tease Mitsuo the most. Hasunuma has staked his claim and the amount of love Hasunuma has for Mitsuo can really be seen – whether or not Mitsuo reciprocates that love has yet to be determined. To make things even more crazy, in a spiritual ceremony gone wrong, Mikuni has been transformed into an infant and it's up to Mitsuo and Hasunuma to raise him. Spongebob and Patrick eat your hearts out because if you thought raising that baby oyster was tough, try raising a miniaturized version of a priest. There's still a lot of cuddling and a lot of flirtatious tormenting of Mitsuo, but the brief appearance of new characters Shino and Itsuki have breathed new life into the almost completed series. Character personalities, lacking in the previous volume, have vivaciously returned and the guy/guy/... guy(?) situations that ensue are hilarious. It's still really difficult to tell the boys apart since they all look exactly alike. But, when they're all so good looking, does it really matter?




Tokyo Babylon Volume 2
Story & Art by CLAMP
Released by Tokyopop
$9.99 US

It's all about the characters in Tokyo Babylon as Subaru, Seishirou, and Hokuto's spiritual assignments continue. This time it's up to Subaru and Seishirou to help an old friend and Hokoto is on her own as she tries to rescue a girl using her own brand of magic. Lovers of the Subaru/Seishirou pairing will need to snatch up this volume as the duo's mysterious relationship is hinted at even more by use of playful, yet ominous banter. CLAMP always does a great job with their relationships and it's great fun to try and figure out just how deep Subaru and Seishirou's "love" goes. Hokuto is less annoying than she was in volume one and seems to have made a jump in maturity between the two volumes. Questions still remain unanswered, and even more seem to have arisen – what is the deal with Subaru's gloves anyway? Distinct CLAMP art, CLAMP boys, and a supernatural story... yeah, I dig it.




Cheeky Angel Volume 1
Story & Art by Hiroyuki Nishimori
Released by Viz
$9.95 US

Let's say your greatest wish was to be the "manliest man on Earth." Then imagine you're given the chance to make that wish come true. Unfortunately, your granter of wishes is a putz and interprets your wish as wanting to be the "womanliest woman on Earth." I know, don't ask me how you can confuse those, but it happens. This situation happened to nine-year-old Megumi. Six years after the ill-fated wish rendering, [s]he's making guys fall all over themselves with her beauty. Still determined to retain as much manliness as possible (and hopefully discourage male admirers), Megumi talks trash and beats up as many punks as possible. As with all good stories, Megumi's macho act backfires, causing Genzo Soga to fall in love with her. Cheeky Angel is quite funny and charming, but it's not funny and charming enough to cause me to pine for volume two. I mean, the artwork is alright, the concept is amusing, but there just didn't seem to be that *spark* that really did it for me. Filled with many, many slapstick and predictable moments – a prerequisite for all gender bending manga – Megumi's situations get old. There just seemed to be too much focus on how Megumi was trying to avoid Soga, rather than actually trying to form a plot or give the characters more depth. Give me more storyline and I may be more interested, but for now I'm finding Cheeky Angel only mildly entertaining.




Comic Party Volume 2: Another Round
Story & Art by An All-star jam of Japan's hottest up-and-coming artists
Released by CPM Manga
$9.99 US

Not to be confused with Tokyopop's series "Comic Party," CPM Manga's Comic Party is an anthology collection of stories involving the "Comic Party" cast drawn by various doujinshi artists. Showcasing the trials and tribulations involving the complexities of getting a manga published and making a name for oneself, Comic Party is a hilarious romp in the otaku world. While I enjoyed the actual series "Comic Party" a lot, the anthology isn't nearly as entertaining. Since it is an anthology, none of the stories have any relation to one another aside from the fact that the characters are the same. Comic Party is funny – the cosplay chapter and strip mahjong chapters were a riot – but as a standalone series, Comic Party: Another Round is pretty weak. I would recommend this as a compliment to the actual Comic Party series; you get more fun stuff with the characters, but no actual storyline is involved.




Najica Blitz Tactics Volume 1
Story & Art by Takuya Tashiro
Released by ADV Manga
$9.99 US

If I were a guy, I'd be in bosom/booty heaven. Not only are their curvaceous figures to die for, these babes pack a punch and they don't take crap from anybody! On the surface Najica is a prodigious perfumer at a cosmetics plant but underneath she's an undercover agent for a secret intelligence organization. Her partner, Lila, is a super strong being known as a Humaritt. Together they complete their assigned missions with plenty of ass-kicking and gun-shooting action. Najica Blitz Tactics was surprisingly entertaining. The women are gorgeous, the action is awesome, and the mystery surrounding the missions and the origins of the Humaritts is intriguing. Since this is only the first volume, the missions are fairly episodic and really serve to introduce the reader to the main characters. Foreshadowing of Humaritt/Lila involvement is evident in the missions and for now I'm taking the bait and want to see what happens next. There's not a lot to this book, but who can resist undercover female agents kicking some bad guy butt? Yeah, you know you can't.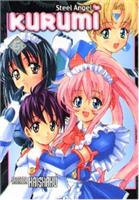 Steel Angel Kurumi Volume 5
Story & Art by Kaishaku
Released by ADV Manga
$9.99 US

Mrmphh... dribble..drool... brain ceasing function... .
Picture Pita-Ten, give them large breasts, and pump them up so they're super strong and powerful and BOOM! Steel Angel Kurumi. The cuteness factor of this series is off the scale - so off the scale that it's practically disgusting. Nakahito is so incredibly cute that girls fight over him and Mikhail, a boy, is practically in love with him. The angels are well endowed... with adorable outfits that alternate between maid and fighting outfits. They're happy, cheerful, full of love, and you just can't get their spirits down. Better not tell them that the story they're starring in doesn't have any plot... even then, they probably would've care because they have the "POWER OF LOVE!" *gag* I do appreciate the artwork of the series because it's quite nice to look at. The chaos angels are beautifully menacing and look much like evil versions of the "Ah! My Goddess" gals. I think the angels are trying to save the world or universe or something and they're going to accomplish this by defeating the chaos angels, but that's pretty much all I could decipher from the "We love you Nakahito" and "I want a cute outfit too" scenes. Fluff, fluff, and more fluff – just be thankful they don't speak like they do in Pita-Ten or your brain would surely rot.


Recycle It




Treasure Hunter Volume 2: Figurehead of Souls
Story & Art by Hitoshi Tomizawa
Released by CPM Manga
$9.99 US

Do not be fooled by the "From the creator of Alien Nine" blurb at the top of the cover. Treasure Hunter is no where near as good as Alien Nine was and resembles nothing of the cute alien series. This looks like something you'd expect to see on TV in the early afternoon for kids. Jubei is a turban sporting, treasure hunter/adventurer with a trusty sidekick named Carpet... who strangely enough is a flying carpet. Sent on a quest to retrieve the powerful Figurehead of Souls, Jubei, Carpet, and a young exorcist named Pipilotta must fight their way through the hoardes of tormented spirits on Jelly Island to retrieve the ancient artifact. Man, it's like a bad Duck Tales episode without Uncle Scrooge, Launchpad, or the three nephews. Had Treasure Hunter had the addition of those web-footed heros, no doubt it would've been much better. The artwork isn't bad; it's just an acquired taste- very detailed but really dated. Maybe it's the fact that Carpet has some weird body-like extension resembling that of a goblin or Jubei totes around a satchel called "Toad Mouth"; whatever it is, the artwork and the story are just too... weird for me. I was thinking that had I been eight-years-old I would enjoy this series better, but I read the book again and decided that age really isn't a factor. The book is just too cheesy, too boring, and too "non-exciting" for this adventure novel to be good. Sorry Treasure Hunter, but I'll take Duck Tales over you any day.


---

Get out your handkerchiefs now because I know you'll shed a tear or two after reading this announcement. Right Turn Only will be taking a one week hiatus so that I can move myself, my bunnies, and my enormous amount of crap to a new place of residence. After I get settled, the period of mourning shall end and the column will resume its regular schedule. Thanks for reading guys! ^_^
---