News

Aniplus Asia to Air Simulcast of 'Planet With' Original Anime

posted on by Rafael Antonio Pineda
---

Aniplus Asia announced on Saturday that it will air a simulcast for J.C. Staff and manga creator Satoshi Mizukami's original mecha anime Planet With. The anime will premiere on Aniplus Asia on July 8 at 11:00 p.m. GMT +8.
The anime's official website describes the anime's story:
"I'm an ally to people I want to ally with. That's all!"

Sōya Kuroi lives a peaceful life despite having no memories of his past. But one day, his city is suddenly attacked by a giant machine known as a "Nebula Weapon." Along with the cat-like Sensei and the gothic lolita girl Ginko, he is dragged into the fight, but he ends up the enemy of seven heroes who are working to protect the city. What is Sōya's reason for fighting that is locked deep within his memories?
The show will premiere in Japan on July 8 on Tokyo MX at 10:30 p.m. The series will also air on MBS and BS11. Bandai Channel will offer a web advance screening of the first episode of Planet With. The first 2,000 Bandai Channel members to access the video will be able to view it for the 24 hours of July 1.
The anime's cast includes:
Atsushi Abe as Sōya Kuroi, an amnesiac boy. While living with Ginko Sensei, he gets involved in the incident of the Nebula Weapon attacking the town. He has just transferred into his new school and has no friends, but seems to be getting along well with Nozomi.


Sayaka Harada as Nozomi Takamagahara, the class president of Sōya's class. She has a kind personality, and is worried about the new transfer student Sōya. Sōya calls her "Nozo-san." She likes ghost stories and the occult.


Shiori Izawa as Ginko Kuroi, a girl in gothic lolita attire who lives with Sōya. She handles the cooking in the Kuroi household, but doesn't cook meat for some reason. While she maintains an innocent appearance, she gets dragged into the conflict along with Sōya and Sensei.


Saori Goto as Kogane Shiraishi, who acts like a secretary to Takashi Ryūzōji. She manages the powers of Grand Paladin, and formulates strategies during combat.


Yuichiro Umehara as Hideo Torai, a skilled member of Grand Paladin who has strong combat powers. He has a serious expression most of the time. He used to work as a firefighter.


Hitomi Ohwada as Miu Inaba, a member of Grand Paladin. She is an optimist that ends up changing the mood anywhere she goes, but she hides a complex about her past. She has been good friends with Harumi since childhood.


Mai Fuchigami as Harumi Kumashiro, a member of Grand Paladin. She gets along well with Miu, and is the more grown-up of the pair, which often leads her to worry about Miu's recklessness. She uses her judo skills to fight.


Shinsuke Sugawara as Judgment (Seigi) Nezuya, a member of Grand Paladin. He is immersed in "chūnibyō," and his words stand in contrast to his stature. His name is written as "seigi" (justice) in Japanese, but he insists that it be pronounced as "Judgment."


Shizuka Ishigami as Benika Takatori, a member of Grand Paladin. She is imbued with a good combat sense that allows her to read and react to the flow of a combat situation. She is usually very silent, which belies her great self-confidence and willpower.


Kazuyuki Okitsu as Yōsuke Hitsujitani, a young man employed by Grand Paladin. He is an indoor person who is not particularly skilled at combat, and the other members often take advantage of him. He is old friends with Benika, and often acts alongside her.


Rikiya Koyama as Sensei, a mysterious life form living with Sōya and Ginko that seems to have the appearance of a cat. He lives an extremely normal (?) life, content to crave cabbages and love 2D girls.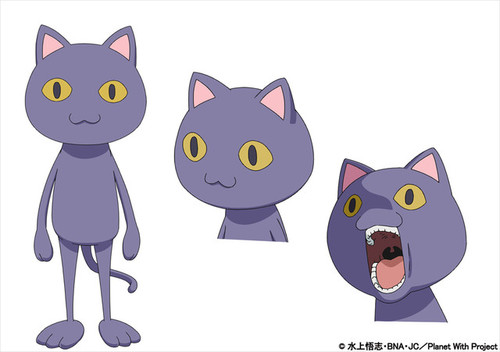 Kenji Nomura as Takashi Ryūzōji, the top official in the "Grand Paladin," the Special Defense Department of the National Bureau of Safety, which administers the seven psychic heroes. He considers Sōya and others as "Nebula Soldiers," in the same league as the "Nebula Weapon," and works to remove them.


Motomu Kiyokawa as Takezō Ryūzōji, the oldest member of Grand Paladin. While his appearance is that of an old man, he is in truth exceedingly healthy, and often participates in eating contests. He fights for Grand Paladin under the command of his son Takashi.


Norio Wakamoto as His Excellency, a life form that appears to be a dog and who stands against Sensei. His true form and objective remain unknown.


Youhei Suzuki (Aki no Kanade, Urara Meirocho, Sword Oratoria) is directing the anime at J.C. Staff, and Mizukami is credited for series composition for the anime, as well as 1,074 pages of storyboards and the original script draft. Kazunori Iwakura (Rune Soldier, Aria the Scarlet Ammo, Alice & Zoroku) is designing the characters for animation. Yoshitsune Izuna (Gad Guard, Diebuster) and Yasuyoshi Uetsu (Lagrange - The Flower of Rin-ne, Triage X) are the mechanical designers. Tsuyoshi Isomoto is the prop designer. Yoshikazu Iwanami is the sound director, and Kōhei Tanaka is composing the music.
Minami will perform the opening theme song "One Unit." Mai Fuchigami will perform the show's ending theme song.
Mizukami is drawing a manga (pictured below) for the franchise, which launched with the first two chapters in the June issue of Shonengahosha's Young King Ours magazine on April 28.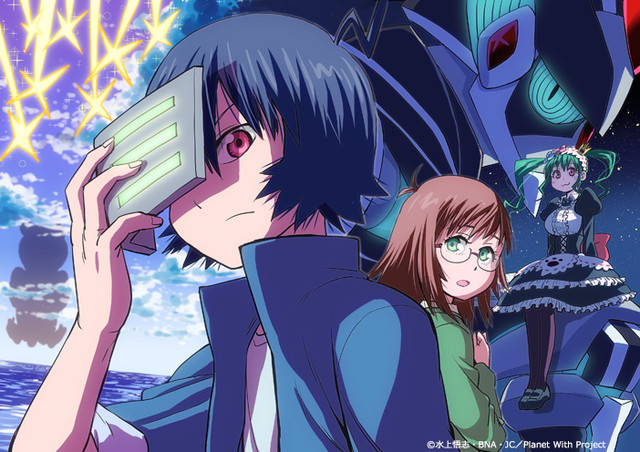 Mizukami drew and wrote the Lucifer and the Biscuit Hammer manga, which launched in Young King Ours magazine in April 2005, and ended in 2010.
Mizukami launched his Spirit Circle manga in Young King Ours in May 2012, and ended the series in March 2016. Shonengahosha shipped the sixth and final compiled volume in June 2016. Crunchyroll began simultaneous publication of the manga in 2014.
Mizukami most recently ended his Nihonmatsu Kyōdai to Mokuzō Keikoku no Bōken manga in December.
Source: Press release
---