×
remind me tomorrow
remind me next week
never remind me
Subscribe to the ANN Newsletter • Wake up every Sunday to a curated list of ANN's most interesting posts of the week.
read more
News

Star Wars: Visions Anime Shorts Posts English/Japanese Trailers, Casts

posted on by Alex Mateo
Anthology of animated shorts premieres on
Disney+
on September 22
---
Lucasfilm began streaming on Tuesday a new trailer for its Star Wars: Visions anthology of animated shorts. The company unveiled trailers with an English dub and in the original Japanese with English subtitles, and it revealed cast members for both versions.
English dub
Japanese with English subtitles
The shorts' cast and creators include (English voice/Japanese voice):
"The Duel" by Kamikaze Douga

Brian Tee/Masaki Terasoma as Ronin
Lucy Liu/Akeno Watanabe as Bandit Leader
Jaden Waldman/Yuko Sanpei as Village Chief
Director: Takanobu Mizuno (Japan Animator Expo episode director)
Character Designer Takashi Okazaki (Afro Samurai, Batman Ninja)
---
"Tatooine Rhapsody" by Studio Colorido (Twin Engine)

Joseph Gordon-Levitt/Hiroyuki Yoshino as Jay
Bobby Moynihan/Kōsuke Gotō as Geezer
Temuera Morrison/Akio Kaneda as Boba Fett
Shelby Young/Masayo Fujita as K-344
Marc Thompson/Anri Katsu as Lan
About a rock band and an unexpected friendship within, with appearances by Boba Fett and Jabba the Hutt
Director: Taku Kimura
---
"The Twins" by Trigger

Neil Patrick Harris/Junya Enoki as Karre
Alison Brie/Ryoko Shiraishi as Am
Jonathan Lipow/Tokuyoshi Kawashima as B-20N
About twins of the Dark Side, and how far a brother will go to save a sister
Director: Hiroyuki Imaishi (Gurren Lagann, Promare)
Character Designer: Shigeto Koyama
Lead Animator: Sushio
---
"The Village Bride" by Kinema Citrus

Karen Fukuhara/Asami Seto as F
Nichole Sakura/Megumi Han as Haru
Christopher Sean/Yūma Uchida as Asu
Cary-Hiroyuki Tagawa as Valco/Takaya Kamikawa as Vaan
Andrew Kishino/Yoshimitsu Shimoyama as Izuma
Stephanie Sheh/Mariya Ise as Saku
Featuring the traditional Japanese culture of mountains
Director: Hitoshi Haga (Made in Abyss assistant director, Sin in the Rain)
Music: Kevin Penkin (Eden)
---
"The Ninth Jedi" by Production I.G

Kimiko Glenn/Chinatsu Akasaki as Kara
Andrew Kishino/Tetsuo Kanao as Juro
Simu Liu/Shinichiro Miki as Zhima
Masi Oka/Hiromu Mineta as Ethan
Greg Chun/Kazuya Nakai as Roden
Neil Kaplan/Akio Ohtsuka as Narrator
Michael Sinterniklaas/Daisuke Hirakawa as Hen Jin
About Jedi who need to come back, reunite, and restore the galaxy
Director: Kenji Kamiyama (Ghost in the Shell: Stand Alone Complex)
Executive producer: Mitsuhisa Ishikawa
---
"T0-B1" by Science Saru

Jaden Waldman/Masako Nozawa as T0-B1
Kyle Chandler/Tsutomu Isobe as Mitaka
About a cute droid, inspired by the works of Osamu Tezuka, particularly Astro Boy
Director: Abel Góngora (Garo the Animation, Super Shiro animation director)
Character Designer: Takafumi Hori
---
"The Elder" by Trigger

David Harbour/Takaya Hashi as Tajin
Jordan Fisher/Yuichi Nakamura as Dan
James Hong/Kenichi Ogata as The Elder
A homage to the relationship between a Master and a Padawan
Director: Masahiko Otsuka (Gurren Lagann assistant director, Promare unit director)
---
"Lop & Ochō" by Geno Studio (Twin Engine)

Anna Cathcart/Seiran Kobayashi as Lop
Hiromi Dames/Risa Shimizu as Ocho
Paul Nakauchi/Tadahisa Fujimura as Yasaburo
Kyle McCarley/Taisuke Nakano as Imperial Officer
About beauty in all its imperfections
Director: Yuuki Igarashi (Keep Your Hands Off Eizouken! episode director, Jujutsu Kaisen animation director)
---
"Akakiri" by Science Saru

Henry Golding/Yū Miyazaki as Tsubaki
Jamie Chung/Lynn as Misa
George Takei/Chō as Senshuu
Keone Young/Wataru Takagi as Kamahachi
Lorraine Toussaint/Yukari Nozawa as Masago
About a Jedi and a princess, but not the ones we have known
Director: Eunyoung Choi (Science Saru co-founder and CEO, Kick-Heart assistant director)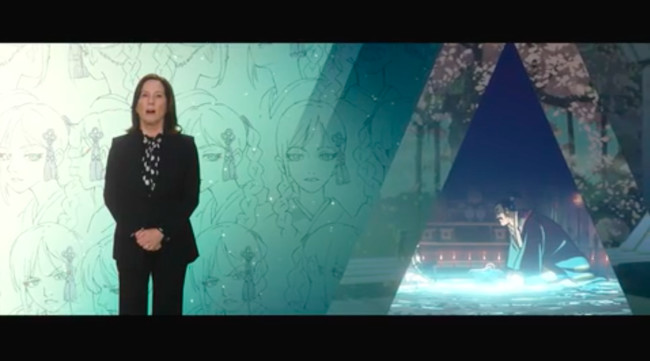 Star Wars: Visions will debut on Disney+ on September 22.
Disney previously described the project as "several of the leading Japanese anime studios offering a fresh and diverse cultural perspective" in 10 shorts this year.
Sources: Star Wars franchise's YouTube channel and website, IndieWire (Zack Sharf)
---